Driven by Innovation
Innovation is core to CANTERRA SEEDS mission 'to generate success' and 'to produce and sell top quality crop seed'. Innovation is encouraged in all aspects of the business from the acquisition of new genetics from our many breeding partners to how we produce, treat and pack product. No detail is overlooked. The challenge for excellence is part of the work culture and permeates throughout the company. Continuous improvement to our processes keeps this company at the forefront of technology.
Not only does CANTERRA SEEDS innovate in how it does its business, it innovates the business itself by partnering with key stakeholders. Partnerships take time to nurture and grow, but the results are rewarding both now and for the future of CANTERRA SEEDS. Our goal is to create a dynamic seed organization that meets the needs of farmers in Western Canada, providing them the seeds from which to grow their businesses. It is in our mutual success that the real reward is realized. Getting there takes time, effort, innovative ideas and mutual respect. CANTERRA SEEDS is on a growth path.
The passing of the Agricultural Growth Act (Bill C-18) in early 2015 by the Government of Canada modernized an number of Canada's agriculture regulations including the Seeds Act and the Plant Breeder's Rights (PBR) Act. These two Acts have direct impact on our business and their modernization, especially the PBR Act, had a direct and positive impact on our business.
In 2012, CANTERRA SEEDS finalized a strategic alliance with Limagrain, a French co-operative and global seed leader to leverage the joint strengths of the two companies by developing and testing new and advanced wheat genetics, and by producing and commercializing seed of those products across the Canadian provinces of Manitoba, Saskatchewan, Alberta and BC. Field performance testing, selection and development of new products began in 2012 crop. Over the three years since then, the relationship grew into the launch of a new joint venture company, Limagrain Cereals Research Canada, and Limagrain taking a minoity shareholder stake in CANTERRA SEEDS. A new world of wheat is under development now on the Prairies, with the fourth largest seed company in the world, one that has a strategic focus on wheat.
In order to continue to secure access to the best possible wheat genetics for the CANTERRA SEEDS portfolio, the company joined with Agriculture & Agri-Food Canada and the Alberta Wheat Commission to sign a historic public-private-producer partnership, or P4. Again, this agreement was the outcome of many months of work and it's outcomes will benefit farmers in Western Canada.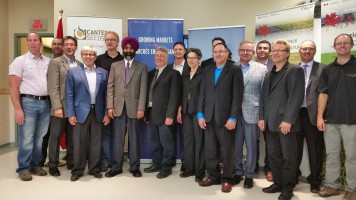 The P4 Partners including Dr. Harpinder Randhawa, the CPSR breeder at Lethbridge Research Station sixth from right.
With a better, clearer and earlier knowledge of what types of varieties are entering the portfolio, market development activities can occur much earlier. Innovation is not a random process, rather, it is the result of planning. In the case of wheat, testing and understanding the 'fit' will hopefully open more doors like those that were opened for other CANTERRA SEEDS varieties like AAC W1876 or Glenn CWRS with Warburton's, the English baker, or AC™ Emerson with Richardson when it was first commericalized, or Bentley malting barley.