Corn development & heat unit concepts
In Western Canada there are three main climatic variables that affect commercial corn production. These three variables include temperature (both heat & frost-free period), day length and rainfall.
Day length and temperature affect development (flowering & maturity), while temperature and rain affect growth (yield). While keeping all of this in mind, it is important to note that temperature remains the most pivotal.
How Temperature Drives Development
It is undoubtedly known by everyone that all vegetation develops faster when temperatures are warm, and more slowly when temperatures are cool, and corn is no different.
To help us quantify how important temperature really is for corn development, we need to take a closer look at two different methods of temperature accumulation, Corn Heat Units (CHU) and Growing Degree Days (GDD).
Corn Heat Units
Corn heat units are a measurement of useful heat for the growth and development of corn. CHU's are better than simply counting calendar days of development because not all regions have similar climates. This means that different regions can collect more CHU's than others in one single day.
Calculating CHU's:
CHU accumulation begins May 1st.
No growth is assumed to have occurred when night-time temperatures are below 4.4ºC and day-time temperatures are below 10ºC.
Max growth occurs at 30ºC. CHU: [1.8 (daily min temp – 4.4) + 3.3 (daily max temp – 10) – 0.084 (daily max temp) -10)2]/2 = CHU
Growing Degree Days
Growing degree days are a measure of useful heat for growth and development of plants and insects. This method is known as more of a broad method of growth and development accumulation across all crop types. GDD's are calculated by subtracting the base temperature from the daily mean temperature.
Calculating GDD's;
Follow the same considerations around temperature as you do with CHU's BUT also consider the following:

If Daily Max Temp is > 30C, it is set equal to 30ºC.
If Daily Min Temp is <10C, it is set equal to 10
CGDD: [(max daily temp + min daily temp)/2] – base temp = GDD
FUN FACT: It takes approximately 150-180 CHU's for a corn seedling to germinate and emerge.
Where are we at today with CHU's?
Use the links below to check out the CHU accumulation in your area and stay up-to-date through the rest of the growing season!
---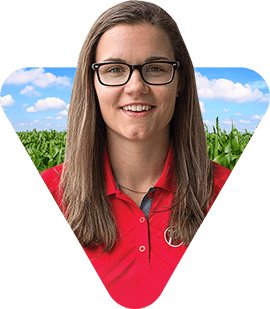 Alana Serhan, Market Development Agronomist (Western Prairies), started with PRIDE Seeds in 2017. Alana coordinates and maintains all corn and soybean field scale trials across Manitoba and Eastern Saskatchewan. Alana's role also includes testing new corn and soybean varieties to help growers understand agronomically what hybrids work best for them. Agronomics are at the forefront of Alana's passion and she enjoys working with farmers to reach greater yields. On the ground Alana helps the CANTERRA SEEDS team with timely agronomic and variety training as well as capturing and summarizing field yield data.