Like many farmers in Western Canada and more specifically Eastern Manitoba where I reside, I have been on the search for the perfect corn variety for my farm. With so many resources out there and so many different varieties to choose from, it can become a bit overwhelming. To help make that decision a little easier, I thought I would share a few varieties I "swiped right" on this year, and hopefully they're a great match for my farm! Follow along with me this summer to see which one of my top three picks is the best fit and wins my affection.
Swipe right: A phrase used to describe your acceptance of something, originally referenced by a popular dating app.
Let's dive into the top three picks!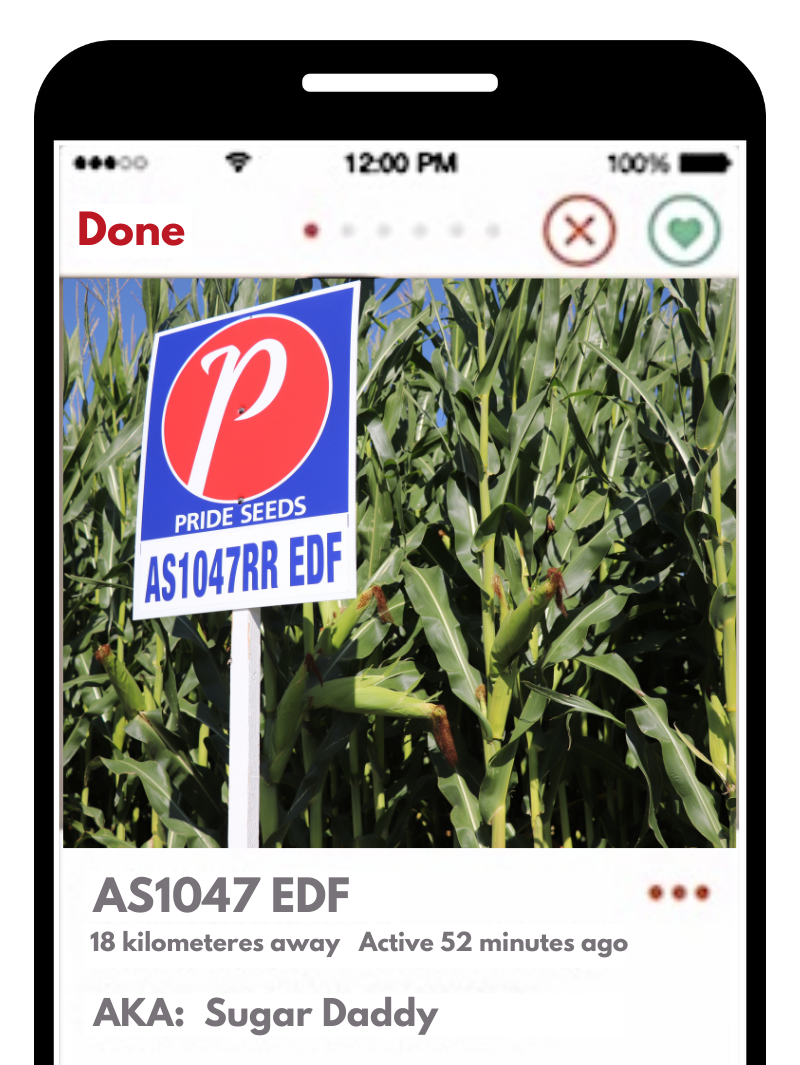 I am 10+ ft tall (sometimes taller). I love to show off and I am great at making the best silage you have ever seen. If it does not work out with me, I have two younger brothers, AS1017 EDF and AS1027 EDF who could also meet your needs.
A little more about me:
If you need to add more fibre to your diet you have come to the right guy. I specialize in high digestibility and palatability. Don't be fooled by my large, intimidating structure – I am a softy who enjoys a wide harvest window. I am extremely loyal; you can leave me for a few months and when you come back, I will still be here for you. Pick ME if you want a high volume of love and tonnes.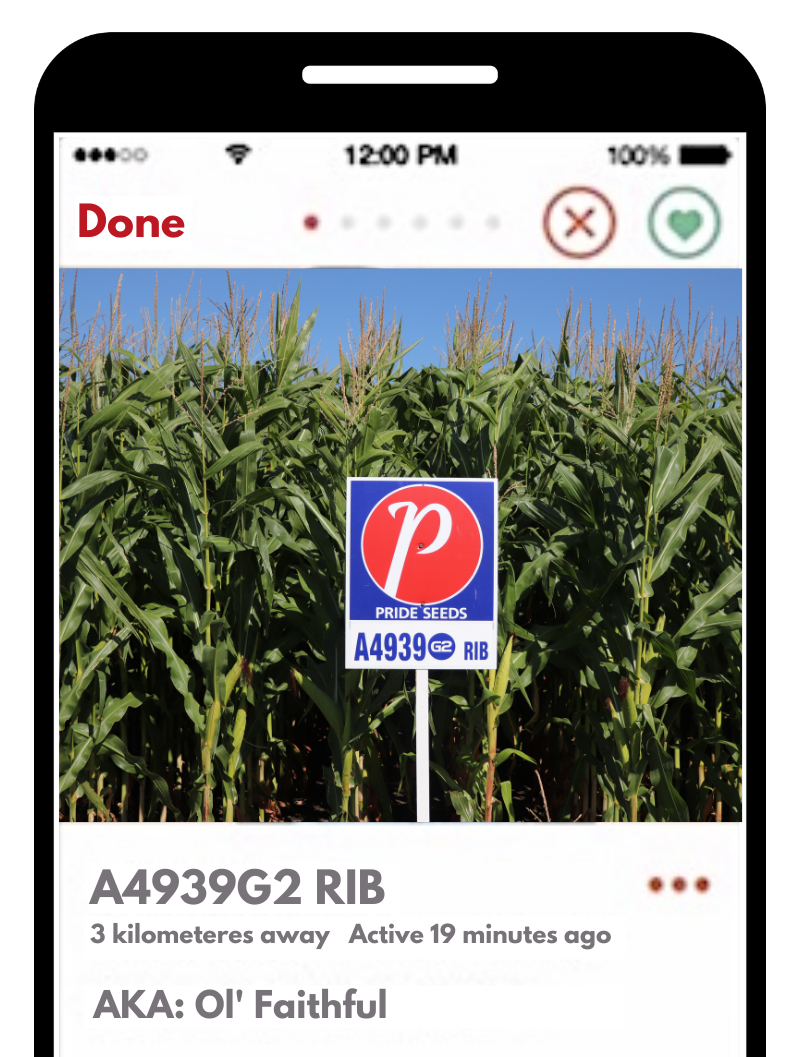 I have a lot of repeat customers. I've been around for a while but I am not planning on slowing down anytime soon. I am a hard worker, confident and very adaptable. Need a high yielding grain? I'm your guy. Are you a dairy farmer who needs a silage that meets your specific feed needs? I am also your guy. Don't knock me 'til you try me.
A little more about me:
I am an effective dual-purpose hybrid, which means I can be used as either a silage or a grain hybrid! I have been told before that I am a QUALITY guy and can help a friend out when they are experiencing drought and disease pressure. I am semi-flexible, so use me in different populations, fill the bunk with me or combine me for grain! I am just here to make you happy in whatever way you need me. You could say I am a people pleaser!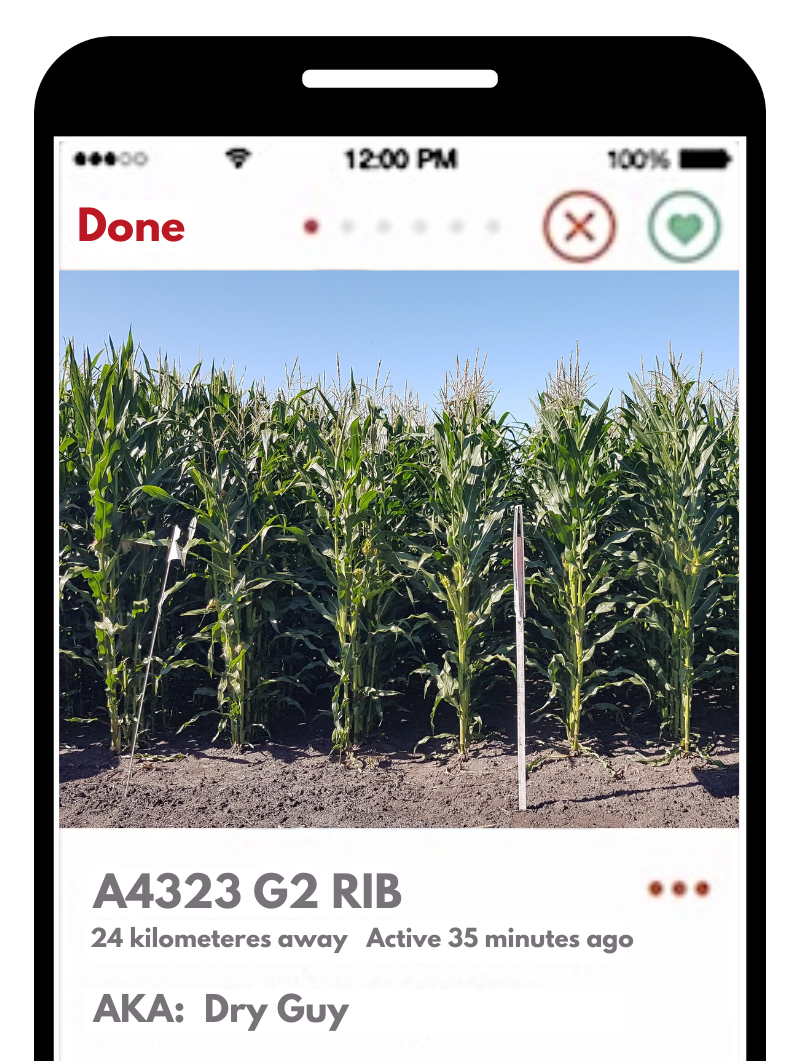 I am pretty new to this scene, but will blow you away. I have a pretty quick and dry(down) sense of humour, which I know a lot of farmers are looking for. I am quite slender and can get quite a few dents in me, so I'm looking for someone to treat me right. If I'm your pick, I can promise to be consistent and make you very happy.
A little more about me:
My humour is about as dry as Manitoba this spring. Luckily, I know when to dry down and I do it quickly. I thrive in a large group, specifically 34,000 (plant pop.). I am not the tallest around, but I have long, slender ears and some beautiful deep kernels, and I know how to produce them. Hit me up for some high yields!
There you have it, folks! These are the varieties I decided to "swipe right" on for my farm and my suggestions for others in Eastern Manitoba. PRIDE Seeds has a lot of other options available through your local CANTERRA SEEDS retailer. Follow me on Twitter, @CANTERRAJackie, to see who the final pick is at the end of the season!
---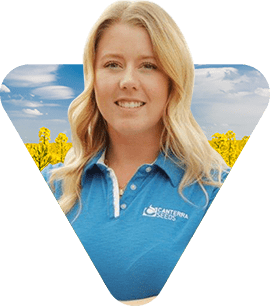 Jackie Dudgeon-MacDonald has been with CANTERRA SEEDS since 2018, and is currently Territory Manager for Eastern Manitoba. Jackie grew up not very involved in her family's grain farm, but as she got older she fell in love with Agriculture and the people. She now lives in MacGregor, MB with her husband and young son and they have plans on moving back to her family's farm in the future.