CS2000
Genuity® Roundup Ready® Canola Hybrid
Excellent yields, broad adaptability and the best clubroot resistance package available.
Yield

105% of L241C1

102% of 45H332

Maturity
Mid
Growing Zone
All
Height
Medium-Tall
Lodging Resistance
Good
Blackleg Rating
R-CE1
Clubroot Rating3
Resistant to pathotypes 2,3,5,5G,6,8 and Intermediate Resistant to 5X, 3O and 5K
1: 2017 Field Scale Trials, n=10
2: 2017 Field Scale Trials, n=12
3. Pathotypes 2,3,5,6,8 are based on the Williams differential set and are equivalent to pathotypes 2F, 3H, 5I, 6M, 8N of the Canadian Clubroot Differential (CCD) set.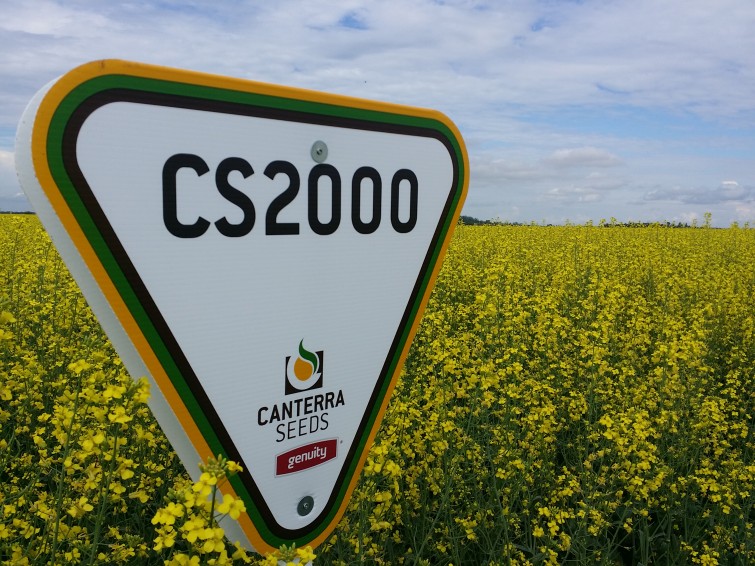 ---
Product Videos
---
ALWAYS READ AND FOLLOW PESTICIDE LABEL DIRECTIONS. Roundup Ready® Technology contains genes that confer tolerance to glyphosate, an active ingredient in Roundup® brand agricultural herbicides. Agricultural herbicides containing glyphosate will kill crops that are not tolerant to glyphosate. Genuity® and Roundup Ready® are trademarks of Bayer Group, Monsanto Canada ULC licensee.