Seed Retailers
Box 777

Tisdale, Saskatchewan

Box 179

Lake Lenore, Saskatchewan

Box 1099

Wilkie, Saskatchewan
Contact CANTERRA Seeds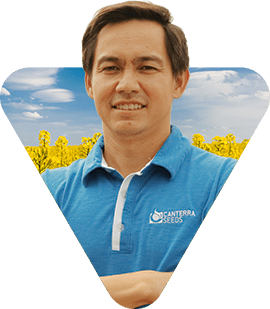 Shaan Tsai
Canola Product Manager
Do you have a question about selecting the right CANTERRA SEEDS variety for your crop rotation? Or a query about the performance, traits or disease resistance of your chosen variety? Call or email our Canola Product Manager, Shaan Tsai, today and he will be happy to assist with any inquiries.
204-479-6396 | .(JavaScript must be enabled to view this email address)
Subscribe to our mailing list.
Behind the Seeds
View Past Posts
Selecting the best durum wheat variety for your growing conditions and yield and ROI goals.
Read More
Twitter Feed

This is just OATstanding! Keep up the good work and bring on more frost free nights 👍🏻 https://t.co/kG6xsBVuP4

Very informative read when choosing the best durum variety to fit your farm.
@cosminvbadea
considers key factors li… https://t.co/KZnPsKTjhp
Follow @CANTERRASEEDS