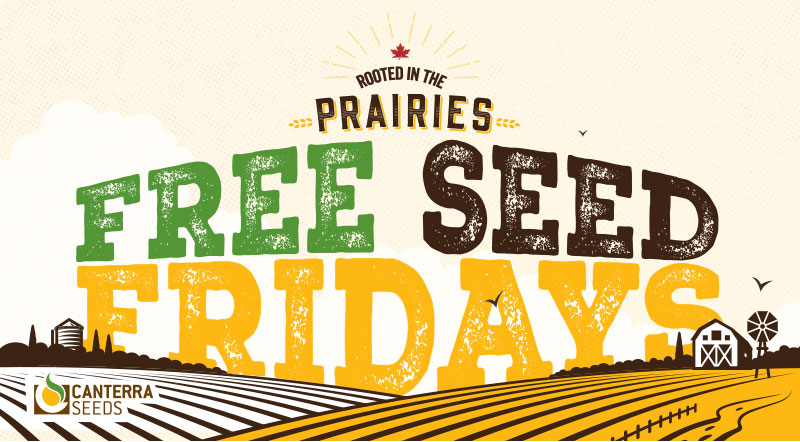 Amid the current landscape, it's more important than ever to support our local communities. CANTERRA SEEDS has given back over $25,000 to local communities in 2021, and now wants to rewards its customers with Free Seed Fridays.
Every Friday starting November 5th until December 10th, CANTERRA SEEDS will be randomly selecting a farmer order in each Prairie province to win up to 16 bags* of their chosen CANTERRA SEEDS canola.
Then, on Friday, December 17th, we'll be selecting one farmer order to win the GRAND PRIZE of up to 64 bags* of CANTERRA SEEDS canola!
TO ENTER:
Go to canterra.com/order and place your CANTERRA SEEDS canola order on the Agro.Club Canada platform. Every CANTERRA SEEDS canola hybrid is eligible.
Wait to see if your name is called every Friday on @canterraseeds. Winners will also be contacted by email or phone within 24 hours.
The earlier you order, the more chances you have to win!
Order Your CANTERRA SEEDS Canola Now
*Standard 22.7 kg bag.
---
Free Seed Fridays (the "Contest")
Contest Rules
The Contest offers you an opportunity to win back your canola seed by placing an order on canterra.agro.club. By entering the Contest, you accept and agree to be bound by these rules ("Contest Rules"). Please read the Contest Rules carefully before entering the Contest.
SPONSOR. The Contest is sponsored and administered by Canterra Seeds (2002) Ltd. ("CANTERRA SEEDS") located at 201 - 1475 Chevrier Blvd. Winnipeg, MB R3T 1Y7. This Contest is not endorsed by any other parties unless specifically noted. Please contact CANTERRA SEEDS at info@canterra.com or 204-988-9750 if you have any questions about this Contest.

ELIGIBILITY. To be eligible for this Contest, you must at time of entry:


be a resident of Manitoba, Saskatchewan, Alberta or British Columbia, Canada;

be at least the age of majority in your jurisdiction; and

not be an employee, director, or officer of CANTERRA SEEDS or any of its affiliates, advertising and promotional agencies, agents or other entities involved with the Contest, or an immediate family member or person residing with any of the foregoing (collectively, "Promotion Entities").


CANTERRA SEEDS may at any time require proof of identity and/or eligibility to participate in the Contest and any entrants deemed to be ineligible will be disqualified.

CONTEST PERIOD. The Contest starts at 12:00 a.m. on August 15, 2021 and ends at 11:59 p.m. on December 15, 2021 (CDT) (the "Contest Period"). CANTERRA SEEDS' computer system will be the official time-keeping device for the Contest. The Contest Period may be extended in the sole and absolute discretion of CANTERRA SEEDS. All entries must be received during the Contest Period.

HOW TO ENTER.


No purchase is necessary to enter the Contest. There are two options to enter:


Place an Order. You can enter by placing an order for at least 1 bag of canola seed (or having your dealer order on your behalf) on canterra.agro.club during the Contest Period. Eligible orders will be automatically entered. An order is eligible if all required steps have been completed (including selecting a Retailer).

Mail In Entry. You can mail your first and last name, telephone number and/or email address, as well as an essay of between 500-750 words on the topic of "the best canola traits or genetics that work on your farm" during the Contest Period to CANTERRA SEEDS Communications Lead, 201 - 1475 Chevrier Blvd. Winnipeg, MB R3T 1Y7.


You may only enter the Contest once. Only your first eligible order will be counted - ordering more than once will not result in multiple entries.

Entries may not (and will be rejected and disqualified if they do) contain any material that is libelous, defamatory, profane or obscene, violate any applicable laws, or infringe on the intellectual property or other rights of third parties.

All entries become the sole property of CANTERRA SEEDS and will not be returned for any reason and you waive any intellectual property or moral rights in your entry.

Entries will be rejected and disqualified if they are late, illegible, incomplete, damaged, irregular, mutilated, forged, garbled or otherwise not incompliance with these Contest Rules.


PRIZES.


There are a total of 19 Prizes to be won during the Contest Period as follows (each a "Prize"):


6 Weekly Prizes for farmers who have entered from British Columba and Alberta;

6 Weekly Prizes for farmers who have entered from Manitoba;

6 Weekly Prizes for farmers who have entered from Saskatchewan; and

1 Grand Prize for all farmers who have entered.


Each Weekly Prize will consist of up to 16 bags of canola seed (up to approximately ~$11,000 value, dependent on type of canola ordered, any seed treatments applied, and number of bags ordered).

The Grand Prize will consist of up to 64 bags of canola seed (up to approximately ~$45,000 value, dependent on type of canola ordered, any seed treatments applied, and number of bags ordered).

Prizes will be randomly drawn and awarded to confirmed Prize winners (each a "Winner") as follows:


On each Friday starting on November 5, 2021 and ending on December 10, 2021 (each a "Draw Date"), a weekly prize will be drawn for British Columbia/Alberta (one), Manitoba (one), and Saskatchewan (one). Weekly Prizes will be drawn from all eligible entries received by 12:00 p.m. on the Thursday before the Draw Date.

The Draw Date for the Grand Prize will be on December 17, 2021. To be eligible for the Grand Prize, you must have entered before 11:59 p.m. on December 15, 2021.


The odds of being selected as a Winner depend on the number of eligible entries received.

Prizes must be accepted by Winners as awarded and cannot be transferred, exchanged, assigned, substituted or redeemed for cash. CANTERRA SEEDS may, in its sole discretion, substitute a prize of equal value.

Winners may not change the number of bags ordered in their first eligible order.

CANTERRA SEEDS is not responsible for any delayed, lost, damaged, or misdirected Prizes.


WINNER SELECTION AND RELEASE.


Winners will be announced on each Draw Date.

Winners will be contacted within 24 hours of the Draw Date and will be required to correctly answer a skill-testing question and sign a Release that confirms Winners' compliance with these Contest Rules, acceptance of the Prize, and release of the Promotion Entities.

Winners must claim their Prize by completing and returning the Release within five (5) business days of being contacted. If no Release is received from a Winner within that time period, the process will be repeated to select a new Winner.

Prizes will be distributed in accordance with Winner's orders on canterra.agro.club (e.g. in Spring, 2022 when the Winner picks up their seed to plant).


WAIVER AND LIMITATION OF LIABILITY. By entering the Contest, you confirm the following:


The Promotion Entities are not responsible or liable for:


any of the costs for participation in the Contest;

any incorrect, lost, late, illegible, falsified, damaged, misdirected or incomplete entries or any related communications, howsoever caused (e.g. human error, computer or other technical malfunction, or otherwise); or

any changes to or termination of the Contest.


You release and hold harmless the Promotion Entities from, and agree to indemnify the Promotion Entities for, any and all claims and liability in any way related to your participation in the Contest.

In no event will the Promotion Entities be liable for any special, incidental, punitive, or indirect damages of any kind (e.g. lost prizes), regardless of cause, and you waive any rights to claim any damages against the Promotion Entities.

In the event the Promotion Entities are found to be liable to you for any reason in relation to this Contest, such liability will be limited to $10. You agree this represents a fair allocation of risk and that the Contest would not be possible otherwise.


CONDUCT. You agree to comply with these Contest Rules at all times and to be bound by the decisions of CANTERRA SEEDS. CANTERRA SEEDS reserves the right, in its sole discretion, to disqualify at any time any entrant found to be in violation of these Contest Rules.

PRIVACY. By entering the Contest, you consent to:


the sharing of your order information by Agro.Club Canada Inc. with CANTERRA SEEDS to enter you into the Contest;

the collection, use and disclosure of your personal information (entry and/or order information) by CANTERRA SEEDS for the purpose of advertising, promoting and administering the Contest in accordance with CANTERRA SEEDS' Privacy Policy (https://canterra.com/privacy-policy/); and

CANTERRA SEEDS' use without any compensation of your name and contents of entry in any advertising and publicity carried out by or on behalf of CANTERRA SEEDS in any media or format including for example social media and any website or broadcast.


CHANGES TO CONTEST. CANTERRA SEEDS may modify, amend, or terminate the Contest or Contest Rules at any time in CANTERRA SEEDS' sole discretion without prior notice.

GOVERNING LAW. All issues and questions concerning these Contest Rules shall be governed by and construed in accordance with the laws of Manitoba, Canada without regard to any choice of law or conflict of law rules and the parties consent to the exclusive jurisdiction of the courts in Winnipeg, Manitoba.

SEVERABILITY. If any provision of these Contest Rules is invalid, illegal or unenforceable, such provision shall be enforced to the extent permitted by law and the invalidity, illegality or unenforceability shall not affect any other provision of these Contest Rules.

TERMS OF USE. Your entry into the contest is subject to the Agro.Club Platform Terms of Use available at https://market.agro.club/agreement_en.pdf - by entering you confirm that you have reviewed and agree to these terms.

COMPLETE RULES. In the event of any discrepancy or inconsistency between these Contest Rules and any other documents or statements, these Contest Rules prevail.