Rooted in the Prairies Project
Connecting Western Canadian farmers to local communities - CANTERRA SEEDS' Rooted in the Prairies Project supports rural charities and non-profits in the Canadian Prairies.
Launched in 2021 for CANTERRA SEEDS' 25th anniversary, Rooted in the Prairies Project invests in local communities across Western Canada. CANTERRA SEEDS was founded by nine Canadian seed growers and we are a farmer-owned company to this day. The intention of the Project was to give back to the communities that have helped us become successful. Our business started in the Praires and we continued to be rooted there today.
In 2021, $25,000 was committed to 10 projects by CANTERRA SEEDS, but with opportunities for nominees to match or amplify the investment, the total raised was over $161,000.
This year, CANTERRA SEEDS has committed to over $62,000, which is expected to grow exponentially with some winning farmers amplifying their donation.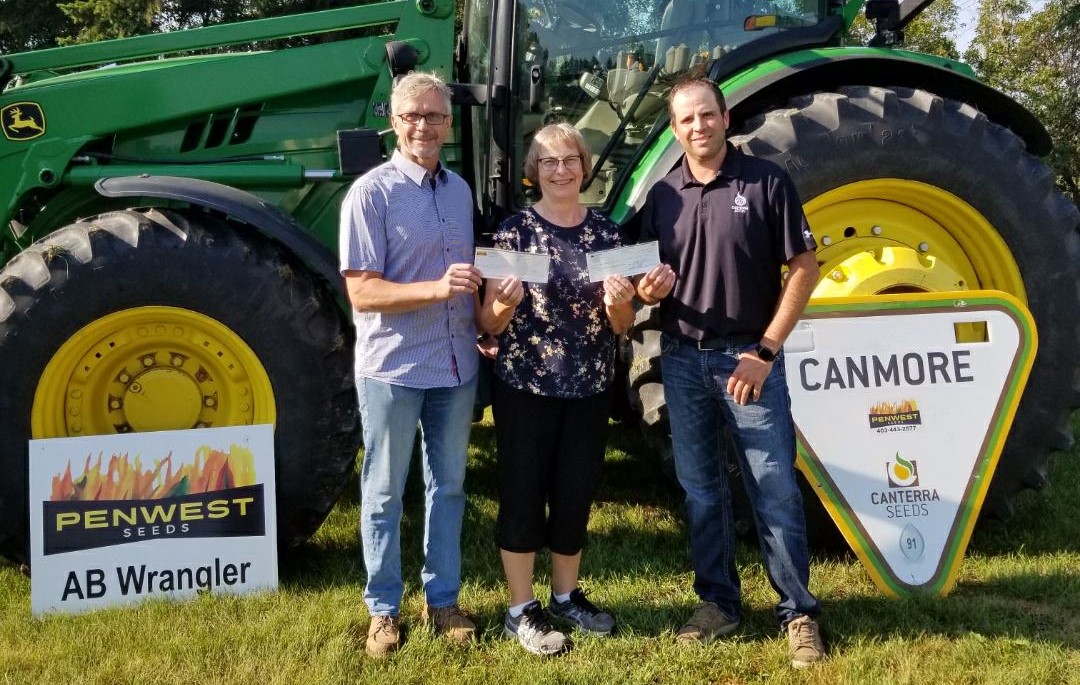 2021 Rooted in the Prairies Project winner, Larry Penner
and Three Hills Health Care Auxillary Society.
How Rooted in the Prairies Project Works
Every spring, CANTERRA SEEDS opens nominations for Rooted in the Prairies Project. Farmers and others in the Western Canadian agriculture sector are encouraged to nominate a local charity or non-profit in their area for a donation. Once nominations close, CANTERRA SEEDS' judging committee chooses winning causes based on the merit of the application and a set of criteria.
Nominations can be for a monetary dollar amount, OR, farmers can nominate to "amplify" the donation. If a farmer's amplified donation wins, they accept CANTERRA SEEDS product in the amount of the donation. The farmer then plants the crop that year and donates the profit to their chosen organization after harvest.

Dan Richards (Scenic Heights Farms) raised over
$66,000 for La Glace Ag Society in 2021 by
amplifying his donation.
---
Learn more about past winners and hear about the 2022 Rooted in the Prairies Project recipients by visiting our blog.
View full rules and regulations for Rooted in the Prairies Project.