Red Shed Malting at Penhold, AB tells us about why juggling different hats is so important for them when it comes to selecting the right malt varieties for their operation.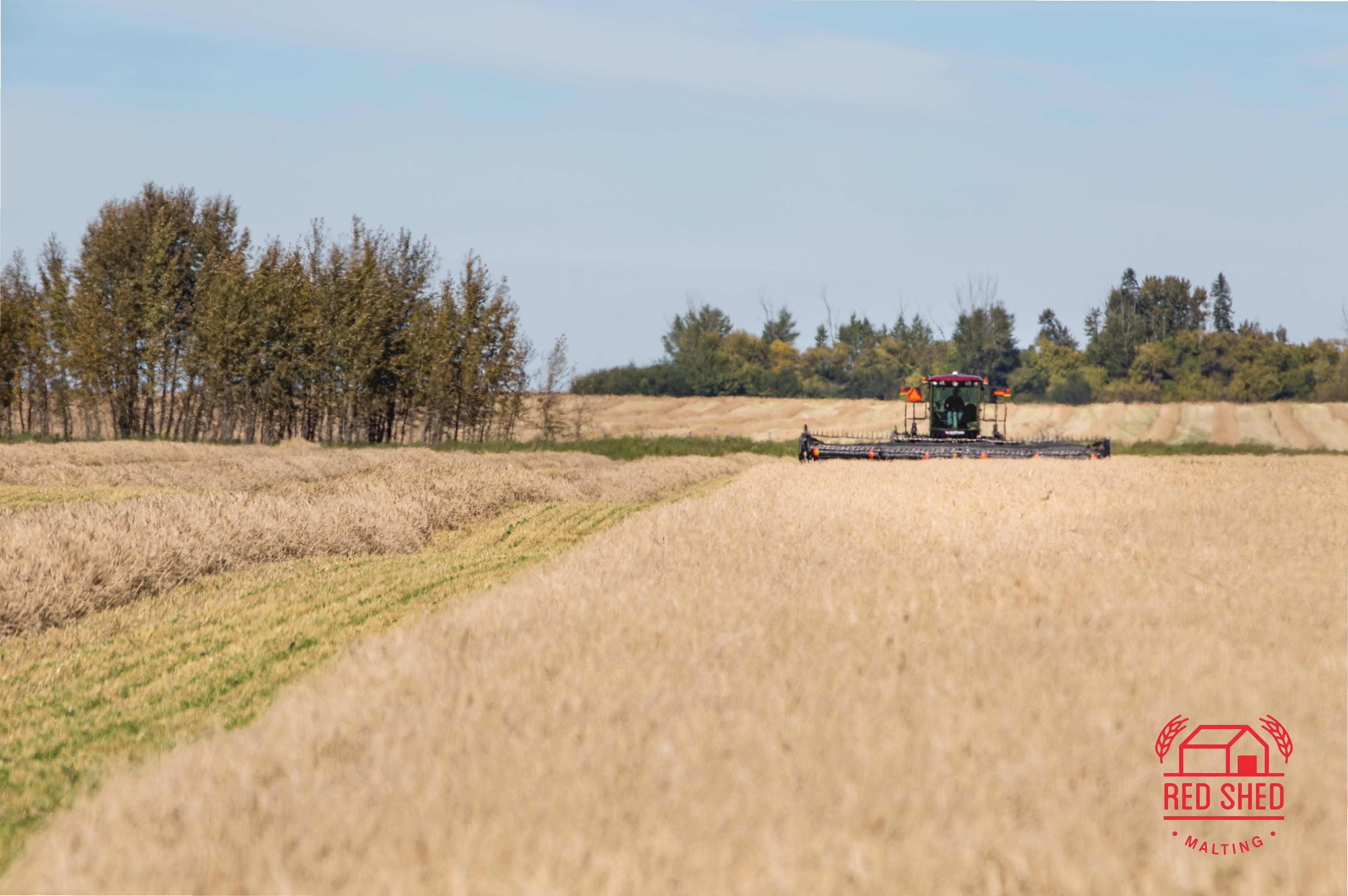 The Farmer Hat – worn by John and Joe Hamill at Red Shed Malting
Finding the right varieties is important for malting, but how they're used on the farm is still the name of the game. It is important at Red Shed Malting to have the knowledge of what will make or break a malting barley crop and also to know what varieties are a hit on farm, and which are a miss.
Tips from the malt barley farmer:
Choose a variety that:

Stands well - short, strong straw is desirable!
Has high yield to compete against other crops in the rotation for a great ROI.
Is early maturing to increase the likelihood of getting the crop off without quality losses.
Has good fusarium head blight resistance!

Use Certified seed to ensure both varietal purity and high germination capacity.
Always check soil nutrient levels to ensure that proper rate of nitrogen is applied to maintain an acceptable protein level in the harvested barley.
Plant early to ensure early harvest and avoid potential weather events in the fall.
Choose a good seed treatment and proper fungicide application to allow the variety to develop to its full genetic potential.
Always ensure proper bin aeration after harvest to maintain the condition of the barley by cooling it down.
The Maltster Hat – worn by Joe and Matt Hamill at Red Shed Malting
Producing high amounts of base malt for adjunct brewers (brewers who use other cheaper sugar sources than barley) is no longer the priority of all maltsters. Red Shed is finding success offering unique base malts and further processed specialty malts to "all –malt" brewers. There are a lot of factors to be considered when producing these specialty malts.
Tips from the malthouse:
Grow varieties that:
Produce malts with low beta glucan, low protein, good extract and moderate enzyme activity.
Provide some consistency in terms of plumpness, colour and weight.
Retain germination power during storage – dead seed can't germinate
Have strong husk adherence and low peeled & broken counts (more important when producing specialty malts, but quite important overall).
The Brewer Hat – worn by Matt and Joe Hamill at Red Shed Malting
There is little doubt that the all-malt brewing industry continues to grow and diversify, in fact, the Hamill's are on the verge of launching Hamill Brother's Brewing, where they will have lots of small batch collaboration with other local Alberta brewers to showcase their malt. Matt shares some tips that he's picked up in discussions with brewers in Alberta.
Tips from the brewer:
Produce sufficient quantities of single variety malt, thus allowing brewers to start experimenting with the different flavours that are contributed by each variety.
Allow brewers to tell the story. Using single variety malt batches allows maltsters to provide more information about the ingredients in the products they product, even tracking it back to the farm.
Embrace the craft of brewing! As consumers are starting to recognize there are different varieties of hops, brewers are also starting to be more aware of the variety of barley used in making the malt they are brewing with.
Despite the abundance of malting barley on the market, a lot of the crop will end up in the feedlot rather than the malthouse. While producing good quality malting barley that will be accepted by a malthouse is no easy task, Red Shed Malting is proving to be an excellent partner, and is providing another great opportunity for malt-farmers on the Prairies.
Red Shed Malting is proof that knowledge is a key component to success, and just how important it is to be plugged in from field to froth.
Cheers to that!
Click here to learn more about CANTERRA SEEDS' malt barley, including the new AAC Connect.