Have you ever wondered how intercropping came to be? Let me tell you a story.
Once upon a time, there was a farmer who had a teenage son. His son was supposed to help him with canola and pea seeding that spring. But being a teenager, things are not so straightforward as it is for adults. So evidently, he kind of messed it all up. Instead of just filling up the air drill with canola seed, he filled it up with canola and peas. The farmer went to seed the field, not for a second thinking that his son did anything wrong. After seeding, when it came to checking the fields for emergence, the farmer realized that something else was coming out instead of just canola. And of course, there was not time to reseed – he knew the problems that could come with late seeding and reworking the field. So, he let it go. Kind of. He complained and blamed his son all summer long, but at the end of the season, when the bins got heavy and the wallets got filled, the farmer congratulated his son for being a very smart, very progressive farmer and for finding new ways to bringing more value to his land. Since then, all they do is intercropping and live happily on their farm. The end.
Now, I made up this story instead of boring you with thousands of years of intercropping evidence since the beginning of time and civilization! However, it could have happened, and in fact some believe that it has happened.
Keep in mind that this piece of information is not aimed to teach you how to be the best at intercropping. We will leave that to the agronomists and the scientists that are working very hard to make sure all your questions and concerns are answered with solid data.
This article's role is to pique your interest about this potential "tool" on your farm and how CANTERRA SEEDS, with its vast portfolio of crops and varieties, can be part of your next intercropping endeavor.
So, what is intercropping?
Simply put, intercropping is planting two or more crops together that will produce a clear benefit to the farmer. The most talked about example is "peola": pea and canola. Just to clarify – wheat and wild oats would not constitute intercropping (could it be called "wowat"?!). Insurance data from 2019 shows about 85,000 acres of intercropping happening between Saskatchewan and Manitoba (87:13 between the two, to be precise).
Studies show that there are many benefits to intercropping. These are the reasons I believe to be important to consider and remember:
It reduces the number of weeds and pests, therefore reducing the amount of crop protection products you need to put on your crops.
Sustainability and regenerative agriculture (like soil health and all).
Increase visibility for some smaller crops (chickpeas or yellow mustard, for example).
What are the top combinations?
Pea and canola
Forage pea and oats (for forage)
Barley and pea (for forage)
Flax and chickpea
What are the best areas in Western Canada for intercropping?
Of course, the obvious answer would be the areas where crop rotation comes naturally, and these areas are the ones currently known for intercropping – Eastern Saskatchewan and Manitoba. But, considering that intercropping can address some issues related to sustainability (soil health, disease and pest lifecycle disruption, etc.), the areas known for extensive monoculture could also be targeted.
However, a more scientific answer, is it should be based on the agroecological adaptation zone for the crops the farmer is looking to mix.
For example:
Both peas and canola have wide adaptability, therefore any area in the Prairies can be deemed successful;
Similarly, with forage peas and oats or forage barley and peas. But here the zones are limited, not by the soil type, but rather by the farm practices in those areas;
However, a combination like flax and chickpeas can be a little trickier, considering that these two crops are known to thrive on different soil types. Flax is known for preferring dark brown soil, while chickpeas like the brown soils better.
What are the best combinations from the CANTERRA SEEDS portfolio?
CANTERRA SEEDS is unique in the fact that we offer a wide variety of crop types from special crops, cereals, corn, soy (make sure to check out the work done related to corn and soy intercropping) and canola, and we can cover most of the combinations desired by any farmer that is already using intercropping in his or her farm practices, or for the ones that are looking to try it out.
Some combinations I suggest:
AAC Carver peas + CS2500 CL or CS2200 CL canola
AAC Carver + CS Camden oats (while both are not forage types, due to their excellent yield performance and great agronomic features i.e. standability and high foliar biomass, they will still be very good candidates)
AB Wrangler barley + AAC Carver
In terms of other potential advantages to intercropping such as yield or macro- and micronutrient advantages (nitrogen fixation, phosphorus, etc.), I choose not to comment much as the jury is still out for debate.
For more information on intercropping, do not hesitate to check these very interesting and more precise articles:
Happy reading!
---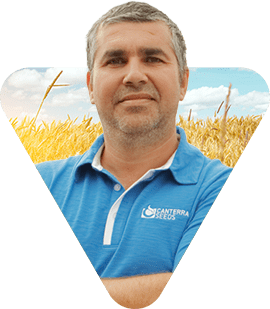 Cosmin Badea is CANTERRA SEEDS' Pedigreed Seed Product Development Manager. Cosmin has been with CANTERRA SEEDS for eight years and his main role is to ensure that our portfolio of pedigreed varieties is strong and competitive.