I have been involved in the pedigreed seed business my whole life; from growing up on a pedigreed seed farm, working as a Pedigreed Crop Inspector for CFIA and now as one of CANTERRA SEEDS' Pedigreed Seed Territory Managers.
Through all this experience, I have seen how important it is both to the industry and to the farmer customer to use Certified seed. Purchasing Certified seed is not only the starting point of a successful crop, but an important risk management tool on your farm. To go into this further, below are some reasons why you should make sure to use Certified seed this year (and every year).
Stringent Production Requirements
The process of producing Certified seed has many checks at multiple levels throughout the process, starting with field selection and rotation, and then continuing to include:
Cleaning out equipment between varieties and crop types to prevent contamination of fields with other varieties and crop kinds;
Creation of isolations around fields;
Field inspections by authorized seed crop inspectors for cleanliness;
Harvest equipment is cleaned out and managed in order to prevent contamination;
Seed is cleaned and samples are submitted to confirm it meets the criteria for strict limits on weeds and other crop kinds.
For more details around the process of producing Certified seed, I would suggest referring to the Canadian Seed Grower Association's (CSGA) "How is Certified Seed Produced" infographic.
Varietal Purity
Varietal purity is monitored at multiple levels in the production of Certified seed, including in-field inspection and sampling.
Growers have fields visually inspected by authorized seed crop inspectors during the growing season to check for isolation and contamination from other crop types, off-types and hard-to-separate weeds.
Growing up on a pedigreed seed farm, I helped with rogueing fields (identifying and removing plants with undesirable characteristics from agricultural fields) before a crop inspector came out to make sure that fields would pass and that there was nothing that shouldn't be in the field. Rogueing at home provided early experience in spotting off-types, weeds and other crop kinds, so that if they were present, we could remove them.
Continuing with my career as a certified Crop Inspector for CFIA, I was trained on all the requirements and standards. Through training alongside more experience inspectors, you learn to get an eye to spot things that should and shouldn't be there.
Once fields are inspected, post-harvest samples are also graded and tested for varietal purity, and to confirm there are no inseparable crop types and weeds.
Traceability
Certified seed purchases can be traced back all the way to the breeder and through the generations of pedigreed seed to the point of purchase of certified by a commercial grower.
Variety Testing in Local Conditions
Varieties are tested in a wide range of areas and locations to see where varieties may fit best. A lot of data is available before Certified seed is even available to commercial growers through the provincial seed guides, including registration data for varieties.
Pedigreed seed growers have multiple years of experience with varieties in their own growing areas and environments before they are available as Certified seed to commercial growers. Pedigreed seed growers become the spokespeople and experts of varieties as they have grown them in their own areas and can suggest what the best option is for a commercial grower looking to purchase a new variety.
Security and Guarantees
Purchasing Certified seed provides security in knowing that a variety purchased has met the quality and varietal purity standards set out for Certified seed. It takes one thing off the list that you have to worry about and you can instead focus on the rest of the crop production process.
Certified seed also has minimum germination levels to provide additional peace of mind of product performance in the field.
Years and years of work and money go into varieties before they get to "blue tag status." By purchasing a Certified seed variety and receiving the blue tag, it shows that what you are receiving is what it says it is.
Access to Premium Markets
IP markets are ever increasing. As consumers pay more attention to the quality of food they are purchasing and consuming, the fit for IP markets and varieties continue to grow. From non-GMO canola for oil production to LOXless malt barley varieties used in Sapporo beer in Japan, consumers and food processors are paying more attention and requiring more information on what they consume and where our food comes from.
For more reasons to use Certified seed on your farm, read the CSGA's Top 10 Reasons to Use Certified Seed.
---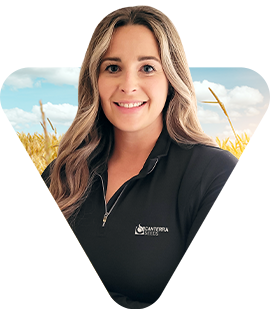 Charlotte Greenshields joined CANTERRA SEEDS in October 2021, as Saskatchewan Pedigreed Seed Territory Manager. She grew up on a pedigreed seed farm and has considerable experience in the grain industry, including working with CFIA for seven summers as a certified Crop Inspector. Charlotte is a Certified Crop Advisor (CCA), Professional Agrologist, a graduate from the University of Saskatchewan and also holds an agronomy certificate from Olds College continuing education.