The Rapid Spread of Clubroot
Clubroot is a soil-borne disease that affects cruciferous crops. Most importantly for Western Canadian farmers, it causes galls to grow on the roots of canola plants, choking out nutrients from the plant, ultimately killing it. Since the disease was found in Alberta in 2003, it has continued to spread across the Prairies.
Clubroot was first discovered in Alberta in 2003, near Edmonton. That year the disease was found in 13 fields, but since then, has expanded to over 2,700 fields in multiple counties. The newest areas to see clubroot in Alberta include the Peace Region and Rocky View County, Southeast of Calgary.
When clubroot was first found in Alberta, it was believed it would only be a matter of time until it expanded to the other Prairie provinces. Though not spreading as quickly, clubroot was found in SK in 2008 and Manitoba in 2012. The Saskatchewan Ministry of Agriculture plans to release a new, detailed, clubroot infestation map in early 2019, and the 2018 map for MB has also just been released.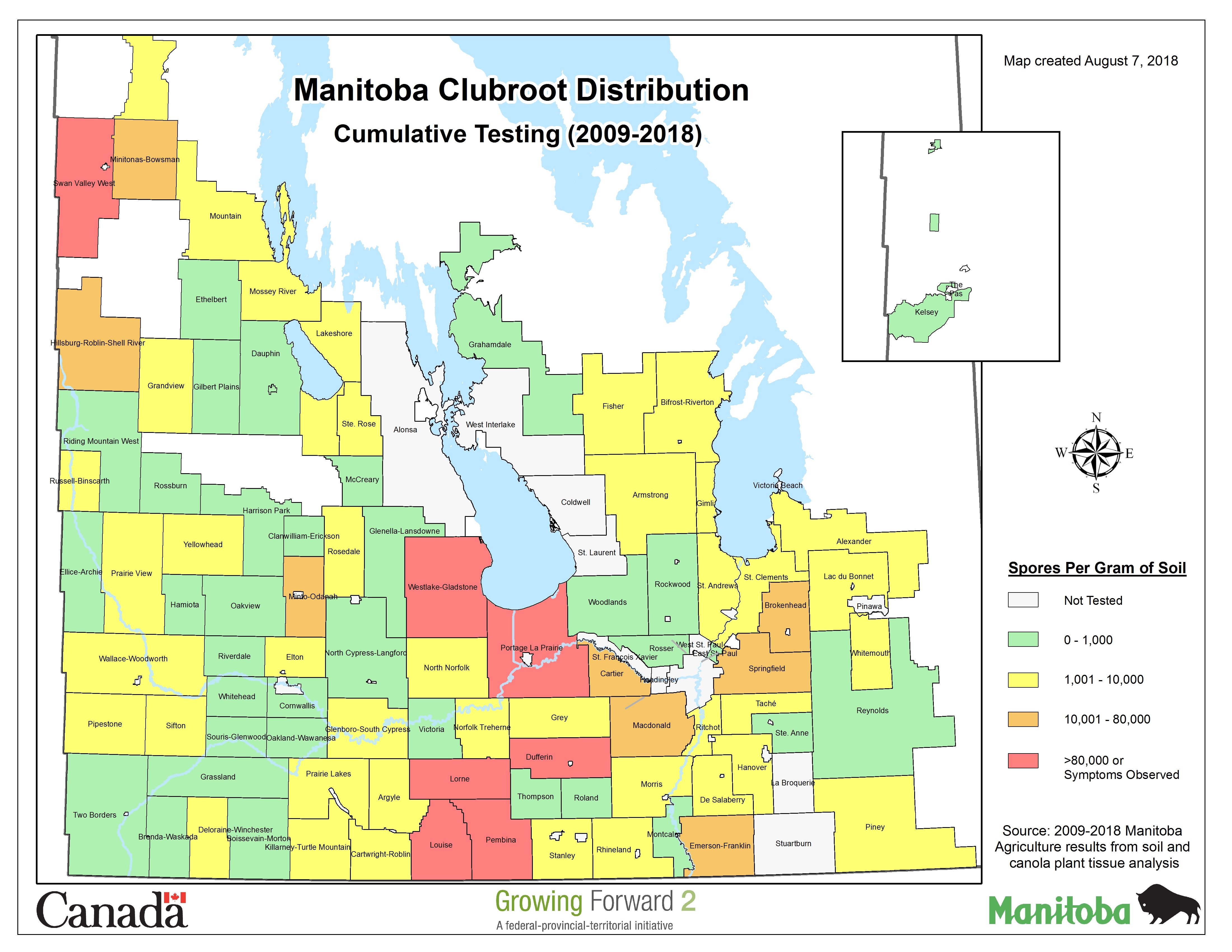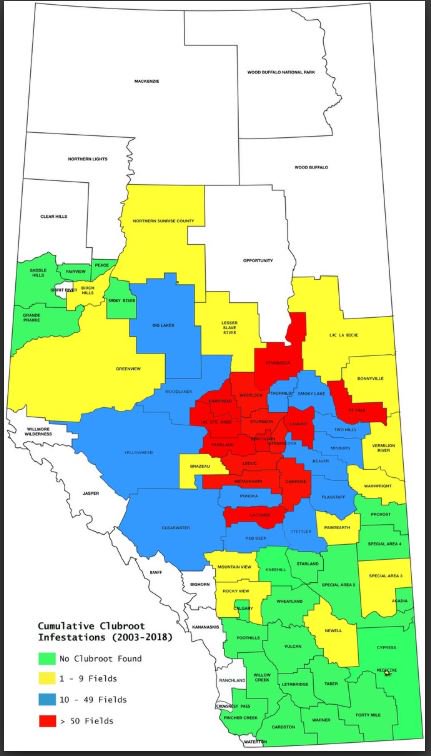 Employing Genetics to Fight Clubroot
We can generally define the clubroot areas into two groups: an existing region, and an emerging region.
In the emerging region, which includes Manitoba, Saskatchewan, the Peace and Southern areas of Alberta, the disease is just starting to be found. We expect in these areas the clubroot spore load is a lot lower. Here, a clubroot prevention strategy should be used, where resistant varieties are planted as a prophylactic or preventative measure. Planting clubroot genetics in these areas can help to decrease the rate of spore buildup.
In the existing clubroot areas, including the Central region of Alberta, a more intensive genetic strategy should be employed. In this existing region, where there is full-scale infection, we see much higher spore concentrations. The higher spore loads are allowing new strains of the disease to arise, defeating the conventional genetic resistance. Selection pressure is even higher in fields under short canola rotations.
Here, we recommend growers pay more attention to the type of genetic resistance within the clubroot varieties they are planting on their farm. Continually relying on the same source of resistance can put immense selection pressure on the pathotype population, causing more virulent pathogens to emerge. As of 2018, 104 fields were confirmed to have overcome the most common clubroot varieties on the market.[1]
Much in the same way it is recommended to rotate your mode of action in crop protection, we recommend you rotate your source of resistance genetics, to help limit the evolutionary response of the clubroot pathogen population. Of course, this leads to the question – what is the source of resistance genetics in my canola variety? See the chart below for this information.
Clubroot Pathotype Breakdown
It is a constant challenge for breeders to stay on top of this evolving disease. It's an arms race between breeders and clubroot. The first wave of clubroot resistant varieties on the market likely contained a source of resistance from the winter canola hybrid, Mendel, which is resistant to the major clubroot pathotypes prevalent at that time: 2, 3, 5, 6 and 8.
The continual reliance on the same source of clubroot resistance brings higher selection pressures, which in part explains why we are now seeing different strains of clubroot emerging.
At the same time, testing has become more robust. Over the last few years, Dr. Stephen Strelkov, professor of plant pathology from the University of Alberta, has been working to better understand the strains of clubroot present, and those that are able to overcome the traditional resistance. Strelkov and Sheau-Fang Hwang of Alberta Agriculture and Forestry developed a new classification system. They have been able to divide pathotypes into several categories, which helps breeders develop genetic resistance.
Strelkov and Hwang also determined new strains of clubroot like 5X and 3A aren't in fact new – they can be found at very low levels among historical samples collected in Alberta from 2005 – 2016. This confirms the growth of these new strains can be attributed to selection pressure imposed by planting the same source of clubroot resistance genetics continually.
The Future
Credit should be given to all canola breeding programs, they are working diligently to find new solutions to the resistance breakdown and we see that with all the new products coming to the market now. CS2000, launched a few years ago, was one of the first hybrids on the market to show resistance to additional strains of clubroot, including 3O, 5G, 5K and 5X.
CANTERRA SEEDS works with DL Seeds, based in Morden, MB. They are at the cutting edge of developing new clubroot resistant canola and soon we will see new sources of genetic resistance on the market from them. These will have an even broader multi-genic source of resistance than CS2000.
Of the current hybrids on the market, the following information has been published about their resistance levels. Please note, this information has been compiled from each companies' website and literature. CANTERRA SEEDS is not making any claims on the pathotype resistance of any of these products.


[1] https://canoladigest.ca/november-2018/global-concern-local-action-international-clubroot-workshop/