One weed spent its time travelling across the Prairies last year. Kochia is showing up in more fields year after year, and quickly developing resistance to multiple groups of herbicides. The relatively dry spring and hot, dry summer we had in many parts of Western Canada in 2018 was extremely favourable to this troublesome tumbleweed. Here's a quick guide on how to identify and control kochia before it sets seed in your fields.
What is Kochia?
Kochia scoparia, also known as summer cypress or burning bush, is a tumbleweed with an ability to spread and establish itself quickly. It has a wide tolerance for different soil types and is extremely drought tolerant. It can produce up to 30,000 seeds per plant and deposit the seeds up to one kilometre away. The good news is that kochia hates competition, has high seed mortality and prefers high saline environments which makes it easier to manage.
How to Identify Kochia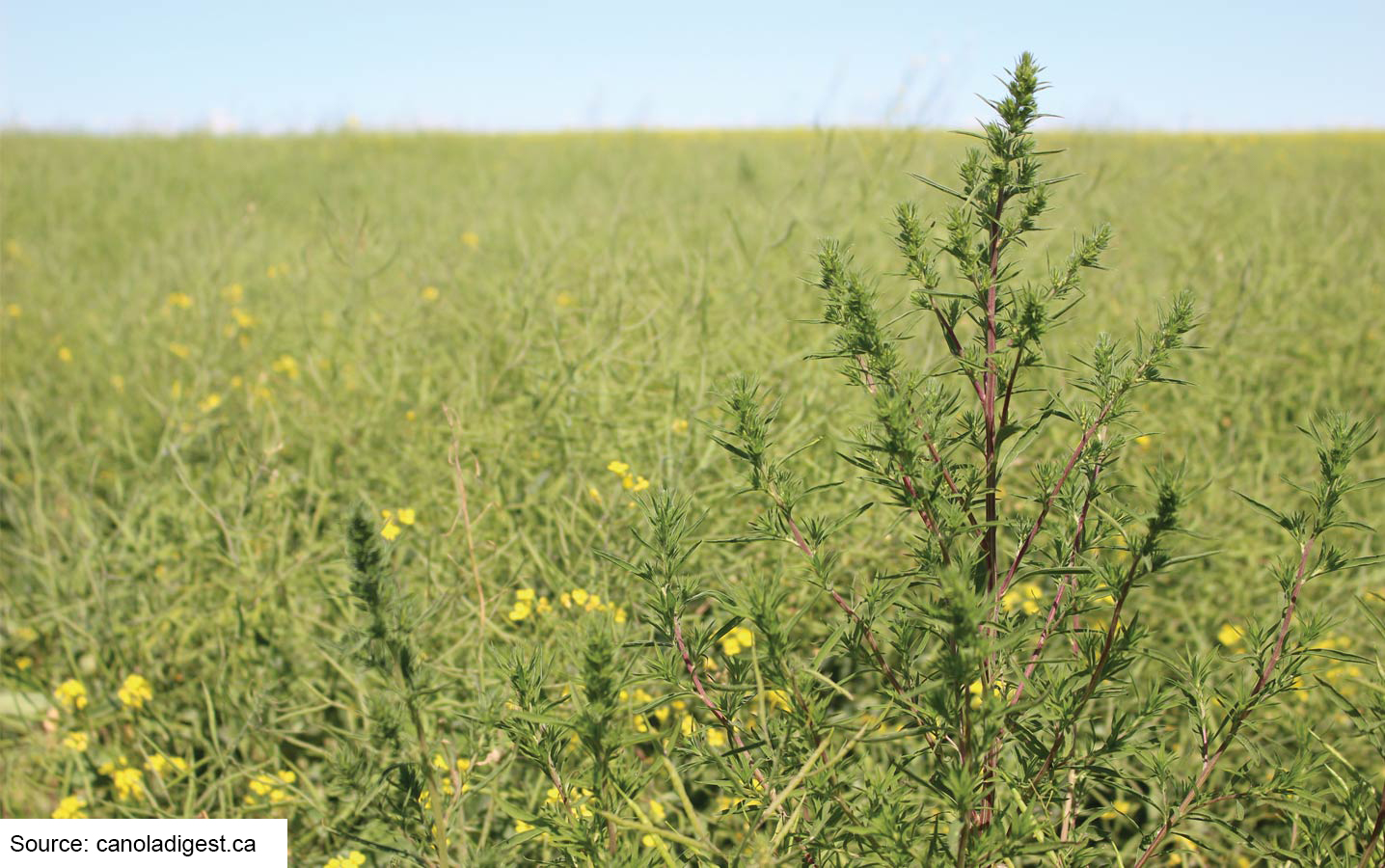 Kochia has a deep taproot, with an erect, highly branched stem that varies in colour from green to red. It has alternating, linear leaves and small, green flowers that lack petals and are found in clusters in the upper leaves. Kochia can grow up to seven feet tall with competition or show a bushier appearance from three to four feet without competition.1
Growing Resistance Concerns
The intensifying battle with kochia in Western Canada comes from its selection to herbicide resistance. All kochia in Canada is considered resistant to Group 2 herbicides. Glyphosate- (Group 9) resistant kochia started popping up several years ago. Interestingly, the first glyphosate-resistant kochia was first detected on chemfallow that was sprayed with nothing but glyphosate for over 6 years and wasn't the result of a poorly managed Roundup Ready® crop. More recently, plants tested in Alberta and Saskatchewan were found to be resistant to Group 4 herbicides. The fear? That kochia populations will develop triple resistance to these groups of herbicides (a fear that may already be realized).
The current landscape of herbicide-resistant kochia in the Prairies:
Alberta: Glyphosate-resistant kochia found in 54% of samples tested in 2017 post-harvest survey2
Saskatchewan: updated survey to be done in 2019; glyphosate resistance was found in 5% of fields and in nine municipalities in 20133
Manitoba: 12 municipalities reported glyphosate resistance in 2018 (up from six in 2017)4
Managing Kochia in Your Fields
With increasing resistance issues, start thinking about weed management plans now before the warmer weather moves in. Below are some tips on how to reduce the impact of kochia on your fields:
Spray early - Kochia is an early germinator and so a pre-seed burn-off is a great time to control this weed, and most herbicides only control kochia when it's small.
Prevent kochia from setting seed - Kochia seeds are short-lived, so use a good herbicide program along with patch mowing or spraying, and cutting for feed areas where kochia has escaped. If managed properly, the seed bank can be depleted in one to two years.
Rotate crops - By rotating crops, you'll use varying herbicide groups each season, controlling weeds and reducing resistance concerns.
Tank mix - Use two effective modes of action when you suspect herbicide resistance. For suspected glyphosate (Group 9) resistance, pre-seed is the easiest time to tank mix, particularly with a product like Conquer® that offers two additional modes of action (Group 6 & 14) that can be applied cost effectively through the Real Farm Rewards program.
Scout early and often - Look for suspicious patches of kochia that may be resistant.
Tillage can be effective - Mowing or spot tillage can be used on larger lines or patches before the plants go to seed. Used sparingly and only when needed for spot management.
Bottom-line: Yes, glyphosate-resistant kochia is a concern, but this shouldn't deter folks from growing their favorite Roundup Ready® crops like canola. With kochia being an early germinator, poor competitor and having relatively high seed mortality, glyphosate-resistant kochia can be controlled effectively with the right management strategy. Ultimately, this includes using the right combination of tank-mixing and crop rotation.
1Source: https://www.monsantocms.ca/weed-spotlight-kochia
2Source: Hugh Beckie, Herbicide Resistance Summit, 2018.
3Source: http://www.nrcresearchpress.com/doi/full/10.4141/cjps-2014-328#.XFixkqpKg2w
4Source: http://www.manitoba.ca/agriculture/crops/weeds/glyphosate-resistant-kochia.html