David Hansen, President and CEO of CANTERRA SEEDS, today had the opportunity to congratulate the Government of Canada for its work in modernizing the Canadian regulatory environment as the Agriculture Growth Act (Bill C-18) was passed into law yesterday. Impacting nine existing Acts, this omnibus bill will work to bring Canada into conformity with the global international plant breeders' rights standards contained in UPOV-91, of particular interest to the seed industry.
"This is an historic day for Canada, for agriculture and for CANTERRA SEEDS. We are going to see more innovation and investment, improved seed genetics and a broader selection of varieties available for producers as a result of the changes that have been made," Hansen said. "CANTERRA SEEDS hosted Minister Ritz as he announced the introduction of this legislation back in December 2013 and we are incredibly proud to host him once again to announce its passing into the statute books today."
Representatives from over 25 organizations, across the cereals value chain and including farmers, were present at CANTERRA SEEDS to welcome the Minister's formal announcement about the status of the Agriculture Growth Act, Bill C-18.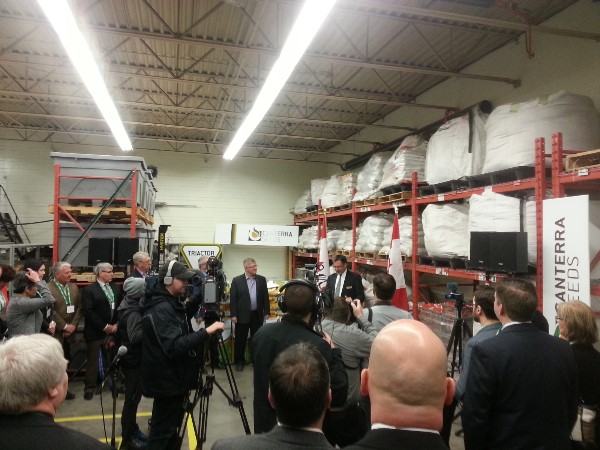 The changes contained within the Agriculture Growth Act will strengthen Canadian agriculture, level the playing field internationally and make investment here a much more attractive option, particularly in plant breeding. "Farmers will be the beneficiaries of the increased investments that are going to happen," says Hansen. "They will have access to varieties with better agronomics, better disease resistance and higher yield potential. They will share in the overall success of the seed industry as an integral part of that value chain."
"I guarantee we will start to see positive change as a result of the passing of Bill C-18 and I personally want to thank Minister Ritz for his support of these important changes to our industry."