This article was featured in the March 2019 issue of The Grain Exchange, a joint e-newsletter from the Alberta Wheat and Barley Commission. Written by: Geoff Geddes | Word Warrior
Whether launching a new wheat variety or a rocket, the process is similar: Spend years researching and planning, then cross your fingers and hope it takes off. As it turns out, the recent launch of AAC Crossfield by CANTERRA SEEDS in partnership with the Alberta Wheat Commission (AWC) was not only successful; it was historic.
"AAC Crossfield is the first product of the 4-P agreement, and we are very proud of that," said Tom Steve, general manager of the AWC.
4-P stands for public, private, producer partnership, and the deal itself stands as a ground-breaking collaboration involving Agriculture & Agri-Food Canada (AAFC), AWC and CANTERRA SEEDS.
"This was the first agreement of its kind, as it featured the government, private industry and a producer organization working together on a breeding program to bring new CPSR wheat varieties to farmers," said Steve.
The partnership is funded by a $3.4-million investment over five years, and if AAC Crossfield is any indication, it is money well spent.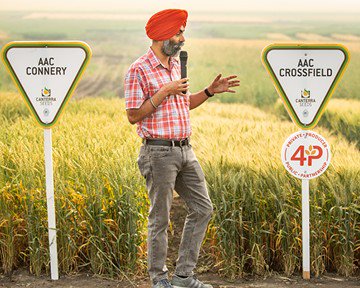 "It is a higher yielding variety with excellent straw strength," said Dr. Harpinder Randhawa, a research scientist with AAFC who leads the 4-P breeding program out of Lethbridge. "It offers very good resistance to stripe rust and stem rust, and intermediate resistance to fusarium head blight. Protein level, kernel size and test weight are superb, in the range of the CPS check variety."
In 2016, 11 years after the initial cross was made, CANTERRA SEEDS started seed production on AAC Crossfield. Most would agree it was worth the wait, and that timeline serves as an important lesson for industry.
Patience before profit
"Launching this variety is a major milestone for the 4-P agreement," said Brent Derkatch, Director, Pedigreed Seed Business Unit at CANTERRA SEEDS. "Variety development is not about instant gratification. It takes time from a research perspective to breed varieties and get them to the volume of seed required for the commercial marketplace. Now that we have, we're happy to be at the finish line for this first release."
With the increased scrutiny of wheat quality in recent years, Derkatch was especially gratified to see the improvement in milling and baking quality with AAC Crossfield.
While those behind this new variety are pleased with what they see, the people who stand to benefit from it are equally impressed.
"CANTERRA SEEDS gave us a demo plot last year of five acres for an on-farm trial," said Wade McAllister, a fifth generation grain farmer at Antler Valley Farm near Red Deer. "Growing it yourself is the best way to test a variety, and we loved the look of it from day one. We put it in a field of Penhold, seeded them at the same rate, used the same fertilizer and found that AAC Crossfield was much better visually. AAC Crossfield was a bit taller with nice big heads and healthy looking plants."
Most importantly, the new kid on the block really walked the walk come harvest.
"It yielded exactly 5 bushels/acre more than Penhold, coming in at just under 100 bushels/ acre," said McAllister. "We plan to put in more acres of AAC Crossfield next year and keep some for seed. If this year's crop goes well, we will consider switching our wheat acres over to Crossfield."
At present, AAC Crossfield is under production through CANTERRA SEEDS' seed grower shareholders, and is expected to hit farmer fields for seeding in the spring of 2019. As thrilling as this launch has been for industry, there is more excitement on the horizon.
Keep it coming
"4-P is not a single variety agreement," said Derkatch. "We will start seed production on a new midge-tolerant variety – AAC Castle - from the partnership later this year."
Like Derkatch, his 4-P partners see this as just the start of something special for all concerned.
"We look forward to other varieties emerging from this partnership in the future," said Steve. "The really meaningful part is that we are able to show how producer investment directly results in new varieties for farmers."
Producer check-off dollars went into the development of AAC Crossfield, and they will have the opportunity to test it for themselves. In addition, those dollars will generate a strong return on investment for farmers.
"When this variety – and those that follow – comes to market, a share of the royalties goes to AWC for the development of other CPSR varieties," said Steve. "That means part of the revenue is returning to the people who invested in it, and any way you look at it, that's a good news story."