Welcome to the Club!
Farmers can now order CANTERRA SEEDS canola and PRIDE Seeds corn hybrids through Agro.Club Canada to take advantage of the Fastest Rewards Program on the Prairies!
CANTERRA SEEDS is proud to announce the beginning of an exciting partnership with Agro.Club Canada, creating digital connections across the Canadian agriculture industry for farmers, retailers and manufacturers like us.
David Hansen, President and CEO of CANTERRA SEEDS, supports the Agro.Club Canada vision of creating efficient, inclusive technology solutions for the value chain. Under their model, Agro.Club Canada provides CANTERRA SEEDS a convenient online option for farmers to order seed from their preferred seed retailer.
"With Agro.Club Canada, we were able to get online quickly with a partner that knows the industry and shares our commitment to partner with seed retailers and farmers," he says.

Serving Farmers Better, Faster and More Efficiently
We are proud to have served Western Canadian farmers for the past 25 years, and excited to take the next step in our company evolution to help support farmers and seed retailers even better. In fact, by partnering with Agro.Club Canada, we can pay rewards to our customers faster than ever before.
YOUR Cash, Back in Your Wallet Before the Seeds Hits the Soil
When a farmer orders online through Canterra.Agro.Club by Dec. 15, 2020, they can receive up to 50% of their rewards before the crop goes in the ground. Reinforcing our commitment to putting farmer's money back in their pockets quicker than ever before through the Fastest Rewards Program on the Prairies.
Please contact your local Territory Manager if you have any questions or want to chat about ordering our products.
---
Renée McM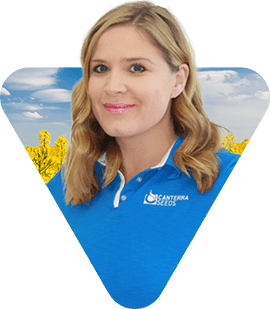 illian, Marketing Manager, has been with CANTERRA SEEDS for over eight years. Renée oversees the development and execution of CANTERRA SEEDS marketing and communications strategies and tactics. She works with the Sales and Senior Management Teams, along with CANTERRA SEEDS third-party agency as well as seed grower and retail partners to ensure marketing and communications is aligned and supporting stakeholder needs.