On December 17, CANTERRA SEEDS posted an open letter detailing the company's position on Value Creation (read here). This supporting question & answer document is intended as further information.
What are the two models being proposed by Agriculture and Agri-Food Canada (AAFC)/Canadian Food Inspection Agency (CFIA)?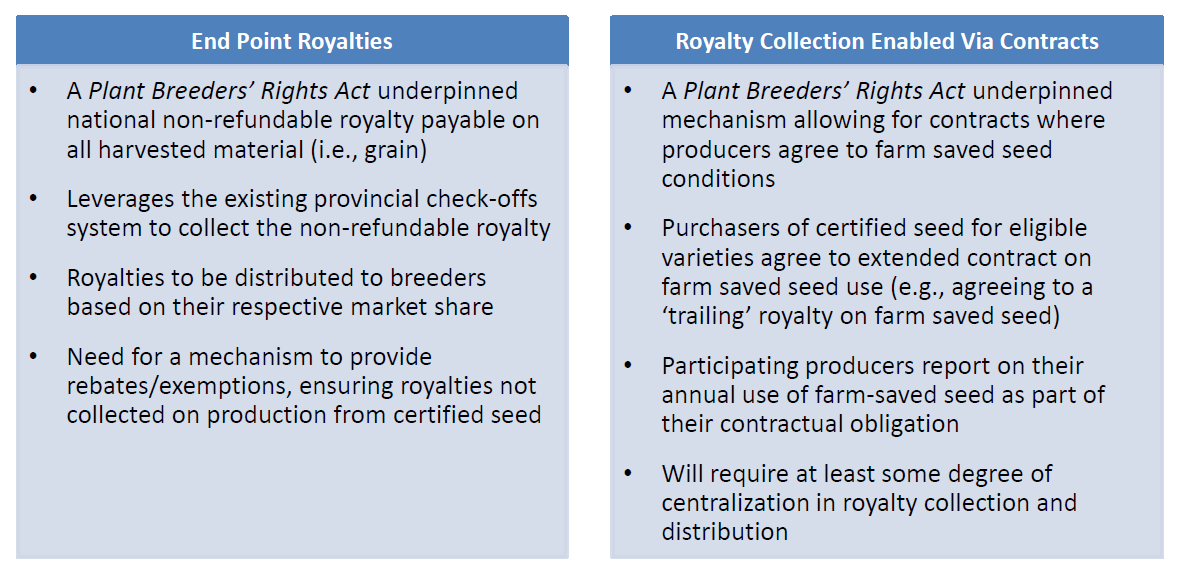 Source: Agriculture and Agri-Food Canada
How were these models developed?
In April 2016, AAFC's Grains Value Chain Round Table (GRT) established the Value Creation (VC) Working Group.
The VC Working Group included representatives from multiple grower organizations (Alberta Wheat Commission, Alberta Barley Commission, Saskatchewan Wheat Development Commission, Saskatchewan Barley Development Commission, Manitoba Wheat and Barley Growers Association, Grain Farmers Ontario, Producteurs de Grains du Quebec, Atlantic Grains Council, Canadian Federation of Agriculture), industry organizations (Canadian Seed Growers Association, Canadian Seed Trade Association, Canadian Plant Technology Agency), seed companies (SeCan, FP Genetics, CANTERRA SEEDS), public (AAFC, University of Saskatchewan - Crop Development Centre) & private (Bayer CropSciences, Syngenta) breeding programs, and the regulator (CFIA).
The Working Group spent 18 months consulting in order to identify two models for more detailed consideration. These were presented to the GRT in November 2017, with recommendations to consult more broadly and to do legal and economic analyses on the two models. The consultation and analyses are currently underway.
Why wasn't there greater awareness of this discussion before now?
While this has been discussed off and on for more than a decade, with the recent development of the two models, efforts are now being made to make as many farmers and others throughout the value chain aware of the issue and of opportunities to participate in the discussion and to provide input. It is important to note that the committee that made these recommendations was comprised of representatives from various segments of the agriculture industry, including farm groups. This consultation represents the next step in the process.
Why does CANTERRA SEEDS support the Seed Variety Use Agreement (SVUA) over an End Point Royalty (EPR)?
CANTERRA SEEDS supports the SVUA for the following reasons:
The SVUA could cover all crops including those that are not delivered to an elevator.
The SVUA does not rely on grain handlers to collect, administer and control the process.
The SVUA would not require rebates on Certified seed purchases (that would be necessary to avoid double payment under an ERP model).
The SVUA could apply to all regions of Canada (not just those that currently have check-off systems).
The SVUA allows farmers to choose if they want to participate – through the purchase of a new variety subject to a SVUA.
The SVUA is conceivably less threatening to both continued use of Certified seed and producer support of commodity check-offs.
How would the system work?
SVUA could only be collected on varieties protected under UPOV '91 i.e. those varieties which obtained PBR since February 2015. This does not mean all such varieties will be included in a new system. Those which are included, will have royalties collected on a go-forward basis.
Similar to Midge Tolerant Wheat Stewardship or Technology Use Agreements, the seed industry would use one online record system to manage the SVUA.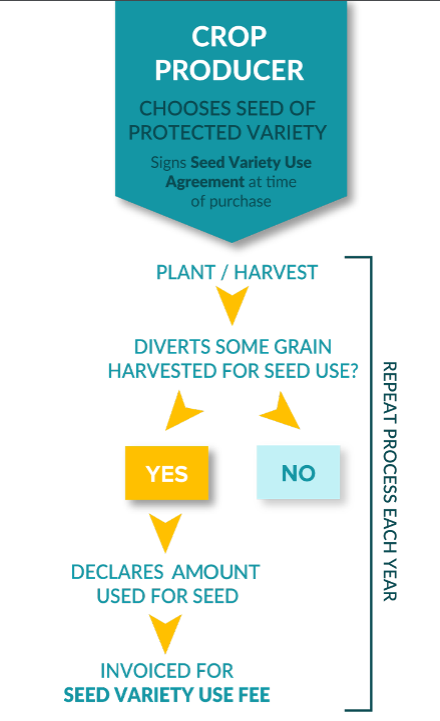 Source: Seed Synergy
Will a grower still be allowed to save and reuse their farm seed?
Yes, and under the SVUA producers will continue to have the option of saving and reusing farm saved seed. For every cycle of saving and reusing the seed, and benefitting from that variety, the producer will contribute back to the breeder in the form of a royalty.
What will it cost?
It is not possible to give exact costs at this time; however, various scenarios have been analysed and AAFC has presented possible costs based on a set of assumptions and using a range of costs which are in use in other countries as a starting point. They have based their estimates on $1.00 - $3.00/Tonne //$1.30 - $3.90/acre.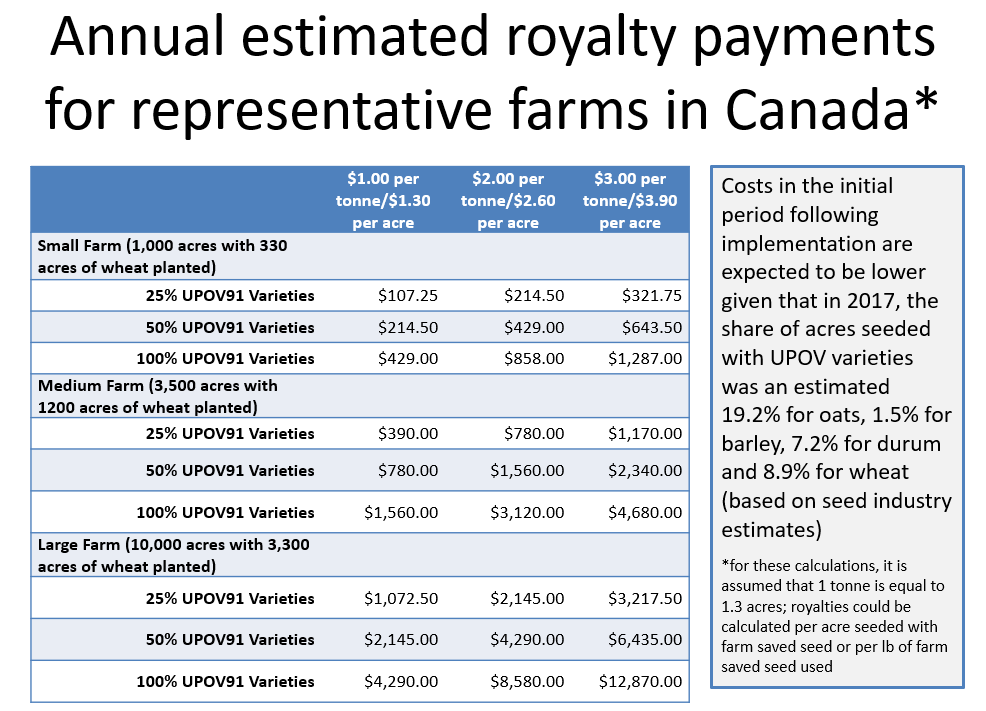 Source: Agriculture and Agri-Food Canada
CANTERRA SEEDS supports each breeder setting the royalty rate for their variety. This rate will need to reflect the value of the variety and should be on a per/acre basis as it is the simplest to administer. It also allows growers to adjust seeding rates for germination and other factors.
Where do additional royalties go?
Royalties are payments to the developer of intellectual property. As a seed company created by growers, for growers, CANTERRA SEEDS is committed to investing additional royalties collected into Canadian breeding.
What about the check-offs growers are paying now?
Commodity check-offs/levies are funds collected from producers of that crop type for use in activities such as market development, extension, communication, and supporting R&D. Check-off funding of R&D is discretionary and flows to public programs without being tied to the performance of the varieties developed by these programs.
CANTERRA SEEDS fully supports the current check-off system and encourage growers to invest in the important work it funds. Increased investment will bring more choice for Canadian farmers.
Why does the system need to change?
In order for Canada to remain competitive and attract additional investment in crop breeding, there needs to be a way to get a return on that investment. Public programs need increased resources to be able to continue the work they do, including AAFC and university programs such as those at the Crop Development Centre. Additional investment will also provide additional support for minor crops and the organic sector.
What happens if a new system is not put in place?
As more and more countries implement comprehensive royalty collection systems, Canada will become uncompetitive as a place to invest, and any investments which have already been made are likely to shift outside of Canada. Public breeding programs will also suffer without added investment, as access to novel germplasm and innovative technologies are restricted to those places where sharing them provides a return on their development.
What about a 'third option'?
Status quo is not an option. AAFC has consistently indicated putting more dollars into their own breeding programs is not a viable alternative to a more comprehensive system. AAFC is interested in a healthy, competitive plant breeding sector in Canada.
Why do we need private breeding programs?
Private programs bring additional access to novel germplasm and access to new, innovative technologies; having private programs in Canada also increases the competitiveness of all programs, including the public programs at AAFC, and universities.
We don't need more varieties – we already have too many!
It is difficult to develop varieties which work well in all geographies. With increased investment, the rate of improvement in varietal performance will increase, providing greater choice for growers. Increased investment isn't about breeding more varieties, it is about breeding better varieties, faster. At the end of the day, farmers will determine the success of any new variety brought to market.
Why do we need regulations since contracts can be put in place right now with no regulatory change?
It is certainly possible to use contract law already, and in fact there are seed purchase agreements already in place; however, if each company creates its own contract system, there will be a lack of consistency and a significant cost of administration which would ultimately be shouldered by farmers. The implementation of an industry-wide system will provide a consistent and efficient mechanism for royalty collection. By entrenching the system in regulations, it ensures legal clarity on the rights and obligations for both the producer and the breeder.
What if a grower doesn't want to take part?
No one can force a grower to grow a variety from any program. Varieties which will fall under a new system will be clearly identified, whether they come from public or private programs, and those opposed to the use of varieties developed by private programs, whether based here in Canada or elsewhere, need not purchase and grow those varieties. Similarly, if a grower only wants to support AAFC he/she can just purchase and grow AAFC varieties.
Varieties which do not have PBR or which have PBR under UPOV '78 terms, will not qualify for an extended royalty system.
Access to older varieties (the majority of which come from AAFC & CDC) will be maintained as long as there is a viable grower demand for them. Additionally, wheat varieties generally hold PBR protection for only 6-8 years. Once PBR rights have been terminated or surrendered the variety is available for use without restrictions.
What if a grower cheats?
Similar to the current system for PBR violations, the grower would be subject to financial penalties and possible loss of future genetic access. An audit system will be set up to monitor enforcement.
Seed growers and sellers will be responsible to ensure the SVUA is completed prior to a sale being made but will not be held liable for infringement by their customers.
Brown bag seed sales always were, and will remain, illegal.
What has this got to do with Seed Synergy?
Seed Synergy is an initiative being undertaken by six seed sector organizations to increase the efficient delivery of the various services provided to the sector. While the Seed Synergy partners are involved in value creation discussions, they are separate issues.
Where can I learn more and how can I get involved in the discussion?
An online consultation will open early in 2019. There may also be another round of in-person sessions if AAFC and CFIA determine they are needed. AAFC and CFIA will also attend upcoming farm shows and other events and are willing to meet with companies and organizations for one-on-one discussions.
The Seed Synergy partners have prepared www.seedvaluecreation.ca as an information source.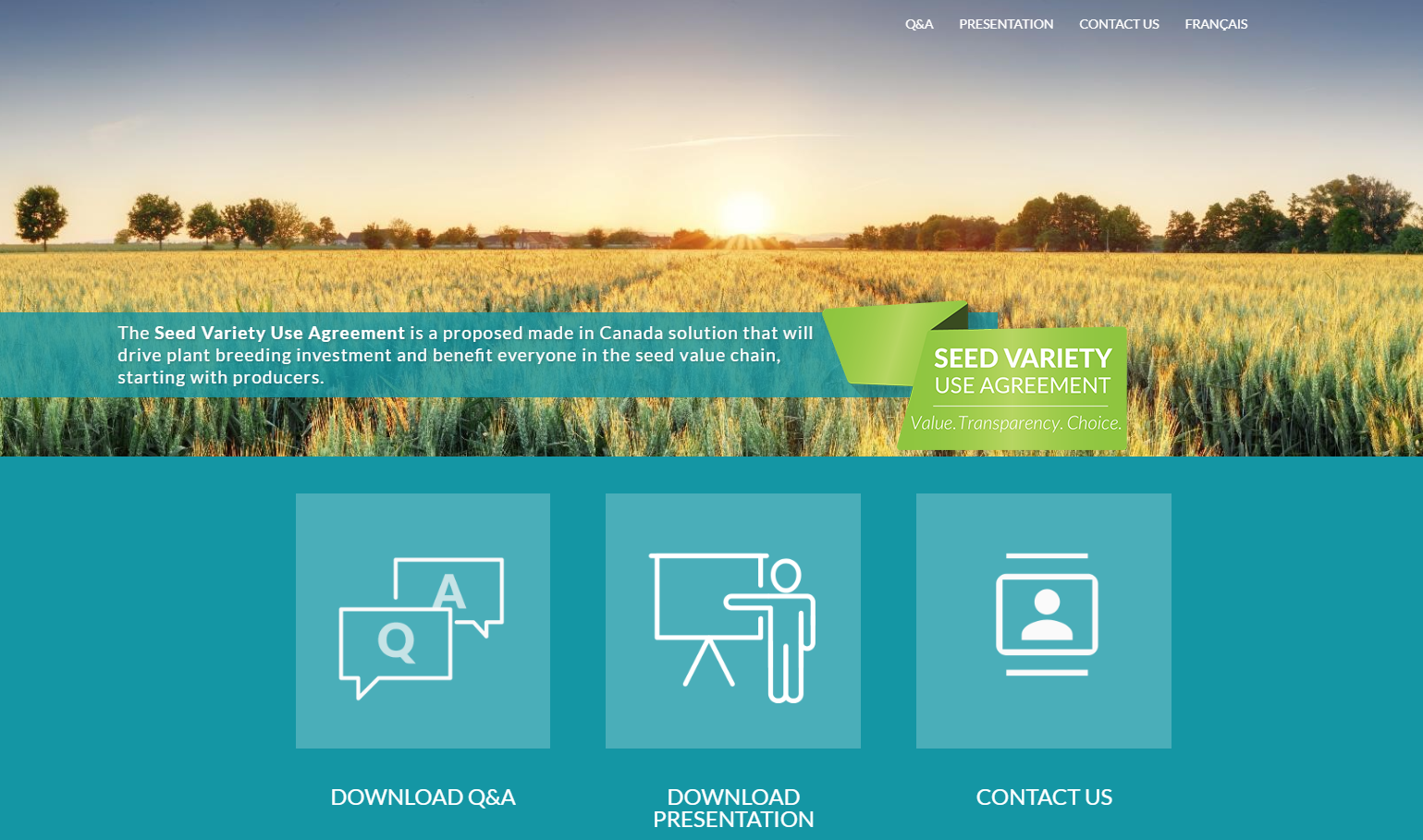 If you have further questions of CANTERRA SEEDS, please contact:
David Hansen – President and CEO, d.hansen@canterra.com
Erin Armstrong – Director, Industry & Regulatory Affairs, e.armstrong@canterra.com
Brent Derkatch – Director, Pedigreed Seed Business Unit, b.derkatch@canterra.com