As we all experience an Easter that looks a lot different from the traditional gatherings and services many of us would normally be immersed in at this time of year, CANTERRA SEEDS is celebrating some of the ways our great team has come together from afar to lift each other's spirits!
Here are just a few of the ways our CANTERRA SEEDS family has been staying connected and sharing positive experiences while practicing social social distancing over the past couple of weeks.
Virtual Sales Meeting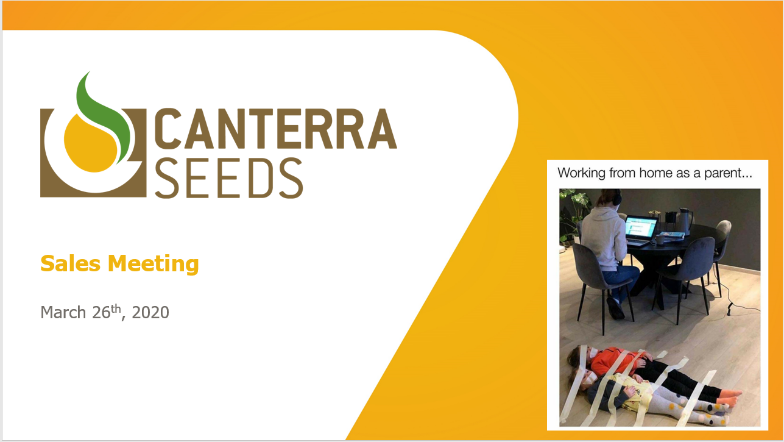 Our annual Spring Sales Meeting is an important opportunity for reflection, planning and sharing of ideas. It's a critical time for our entire team to come together each year to welcome our new members and bond as a group through shared experiences and laughs throughout our week of meetings.
Of course, it wasn't in the cards for us to meet in person this spring, as our team is observing recommendations on social distancing to slow the spread of COVID-19. But just because we're house-bound doesn't mean we can't find opportunities to have a little fun!
Our Director of Sales, Lorri Keyowski, added some light and laughter into five, half-day virtual meetings with our entire organization by gathering some Fun Facts and letting the team take a guess before revealing the secret identity. It helped break up the virtual call and kept the team bonding alive!
"I really appreciated the team's patience, focus and attitude as we went through the meetings," says Lorri. "The support from Senior Management has truly been excellent and these meetings really cemented for me how down-to-earth, sincere and genuine this company is."
Oh, the Things We Learned About Eachother…
I always knew we were a talented and creative crew, but the things you learn while social distancing really opened our eyes!
Page Newton, Territory Manager for Southern Alberta, who is now and forevermore going to be referred to as "milk maid", once took her love of ag across the ocean and learned about dairy farming in New Zealand.
Our very own President & CEO Dave Hansen is really an accomplished accordion player! (Maybe we'll get a little musical accompaniment for our next meeting?)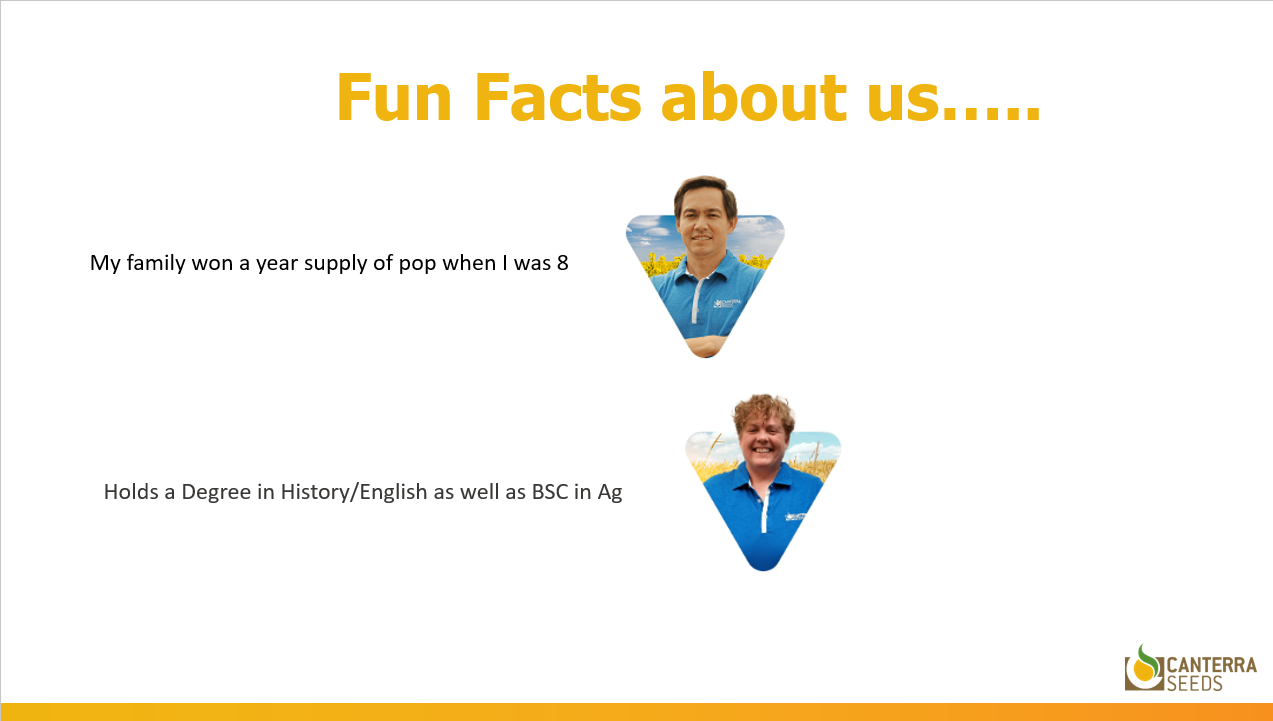 Shaan Tsai, Canola Product Development Manager, once lived every kid's dream when his family won a year's supply of pop through a contest! Shaan, my 8-year-old self is jealous of your 8-year-old self!
We'll be calling on Colette Prefontaine, Pedigreed Seed Territory Manager – Western Prairies, to write more posts for our Behind the Seeds Blog now that we now she also holds degrees in English and History.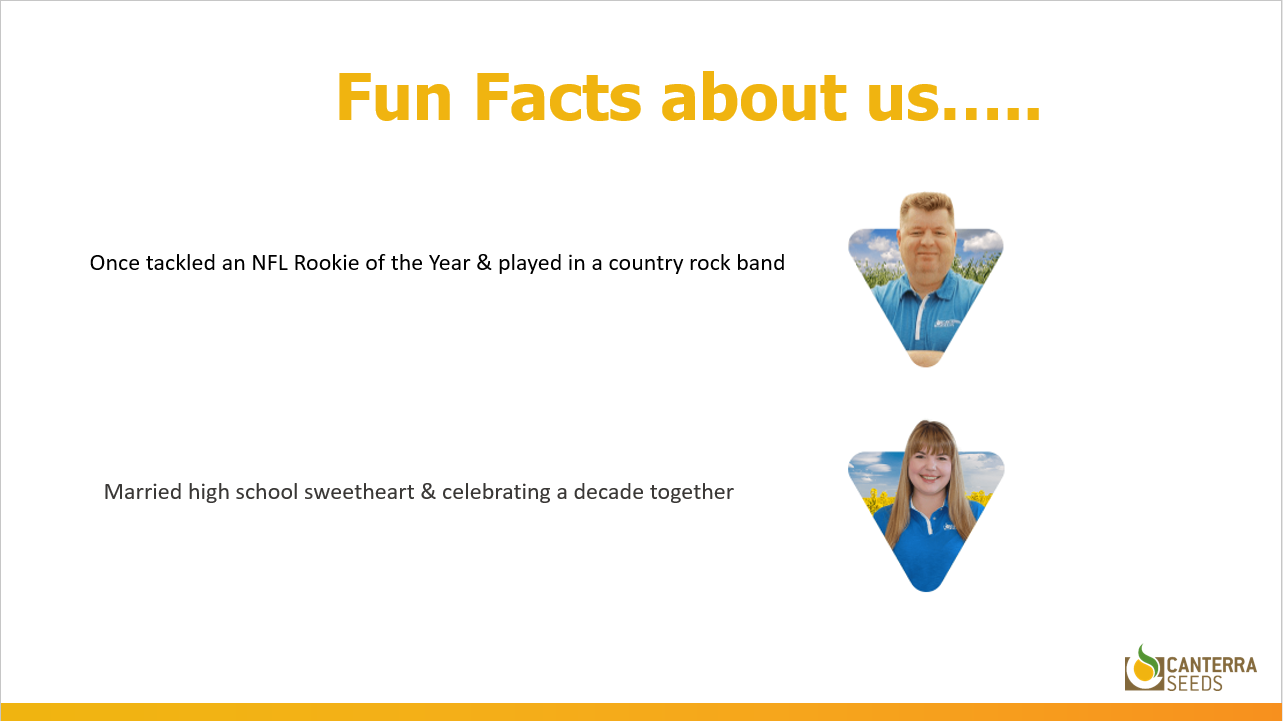 Rick Love, Pedigreed Seed Business Manager – Eastern Prairies, has not just one but two hidden talents, sports and music! (Country rock/accordion duo, anyone?)
I can't think of a better reminder that no matter what life throws at us, our loved ones will help us get through than our Sales Coordinator Erin Chroney's story of love that has grown over time. Congratulations, Erin!
Getting Creative to Stay Connected
It is more important than ever to stay connected, connecting with other people is considered a fundamental human need that is essential for overall well-being. And thanks to technology there are many creative ways to stay in touch.
Here are some free and easy ways to keep socializing, without leaving your home:
We're in this Together
However you choose to stay connected, just be sure to make it a priority. Something as simple as a daily check-in has given everyone at CANTERRA the reassurance we need to stay positive. Our CEO has incorporated emails to our team into his morning routine, sharing challenges, experiences and reinforcing the importance of health and family.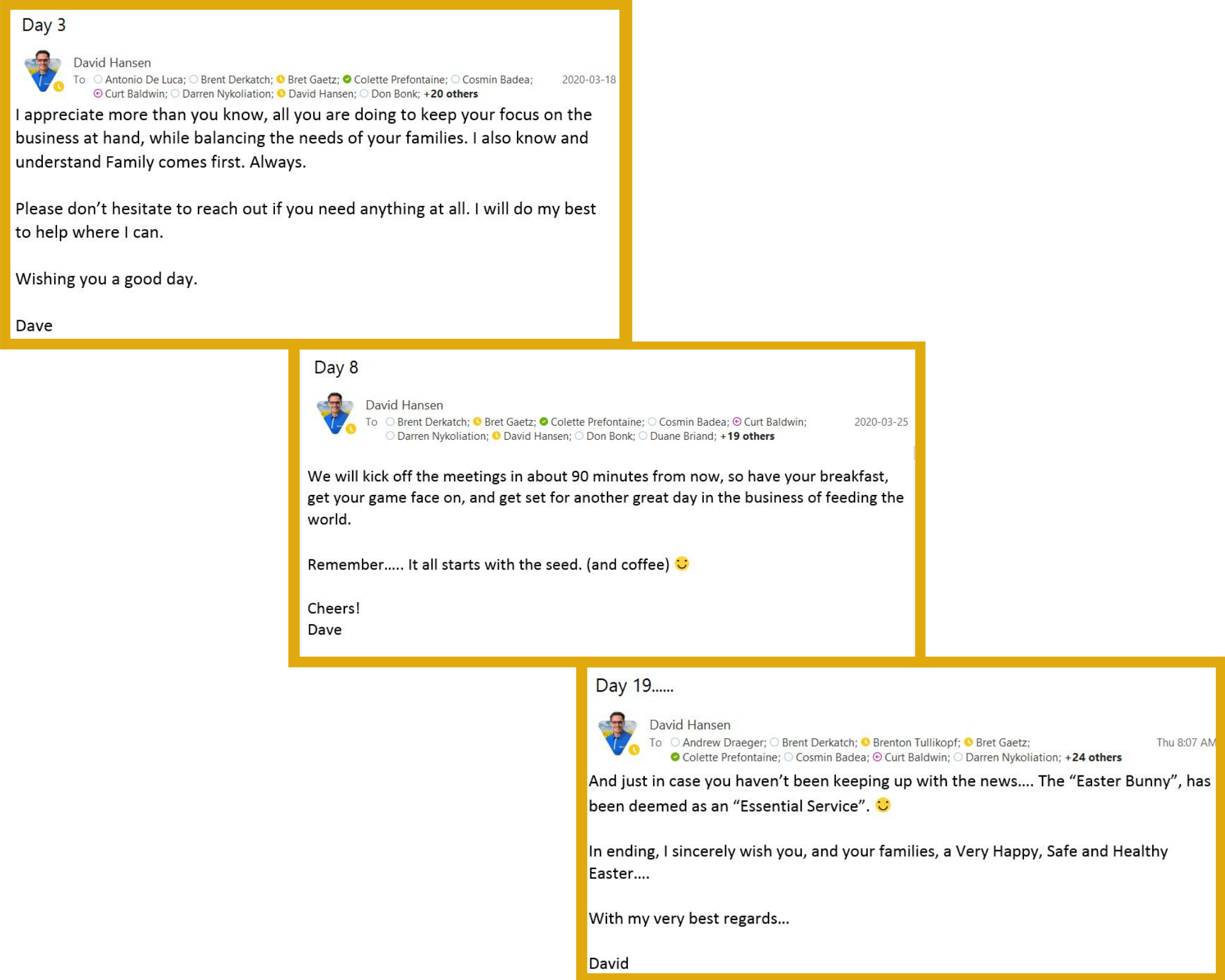 In the coming weeks, make sure to check in on the people in your life and offer help, an ear, or a virtual shoulder. We need to appreciate that a level of isolation is what is going to help keep us safe, but social distancing doesn't mean it's the end of socializing.
Reach out and connect with someone today! Your overall health and happiness will be glad you did.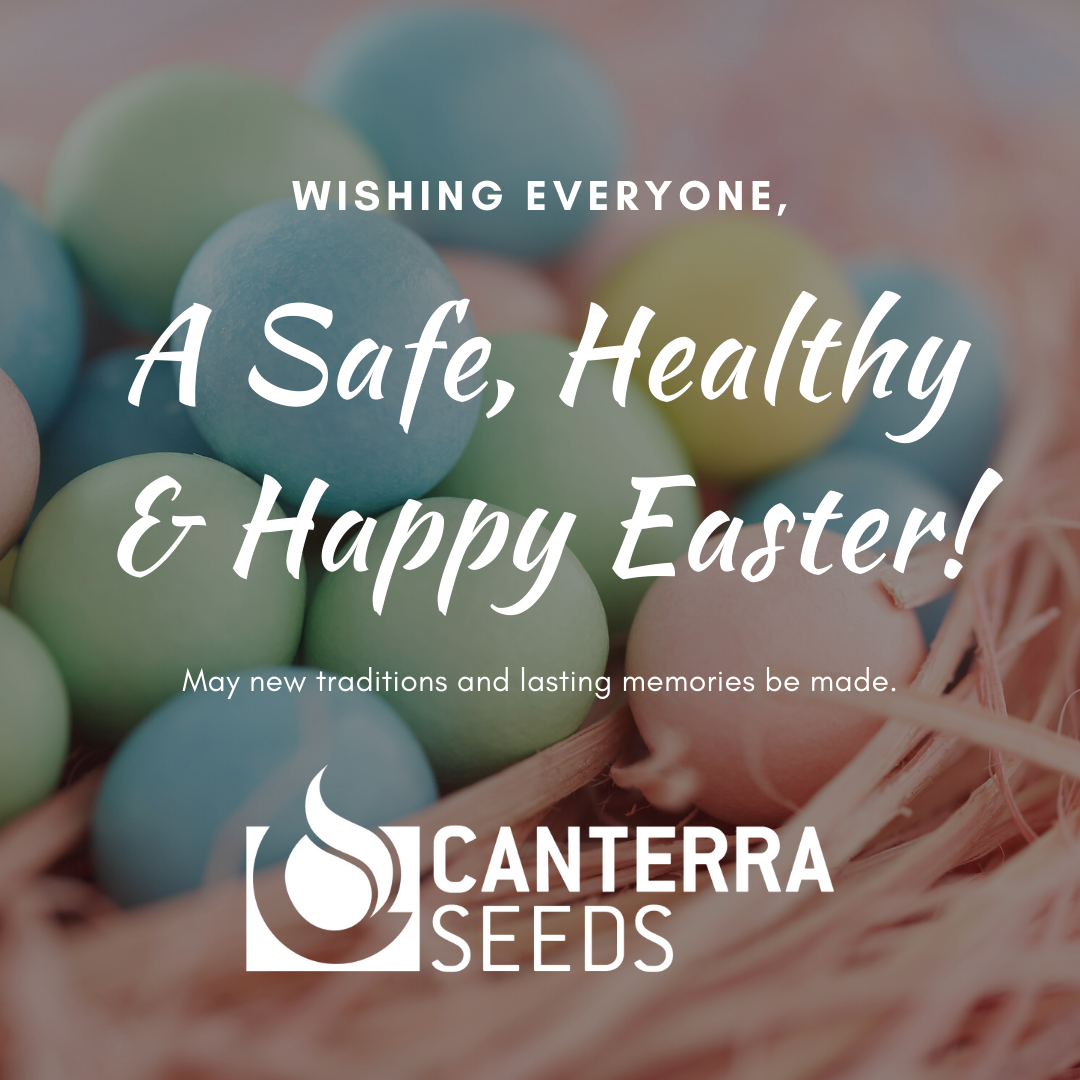 On behalf of CANTERRA SEEDS I want to wish all our customers, seed growers, retail partners, friends and family a safe, healthy and happy Easter. I hope you can find creative ways to connect with your loved ones and support each other during this time.
---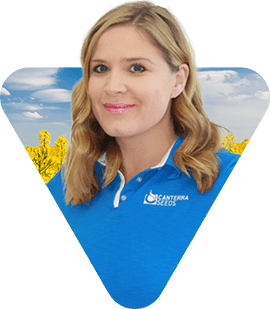 Renée McMillian, Marketing Manager, has been with CANTERRA SEEDS for over eight years. Renée oversees the development and execution of CANTERRA SEEDS marketing and communications strategies and tactics. She works with the Sales and Senior Management Teams, along with CANTERRA SEEDS third-party agency as well as seed grower and retail partners to ensure marketing and communications is aligned and supporting stakeholder needs.