Recently, InVigor canola sent a marketing piece to farmers in Western Canada. It looked like this: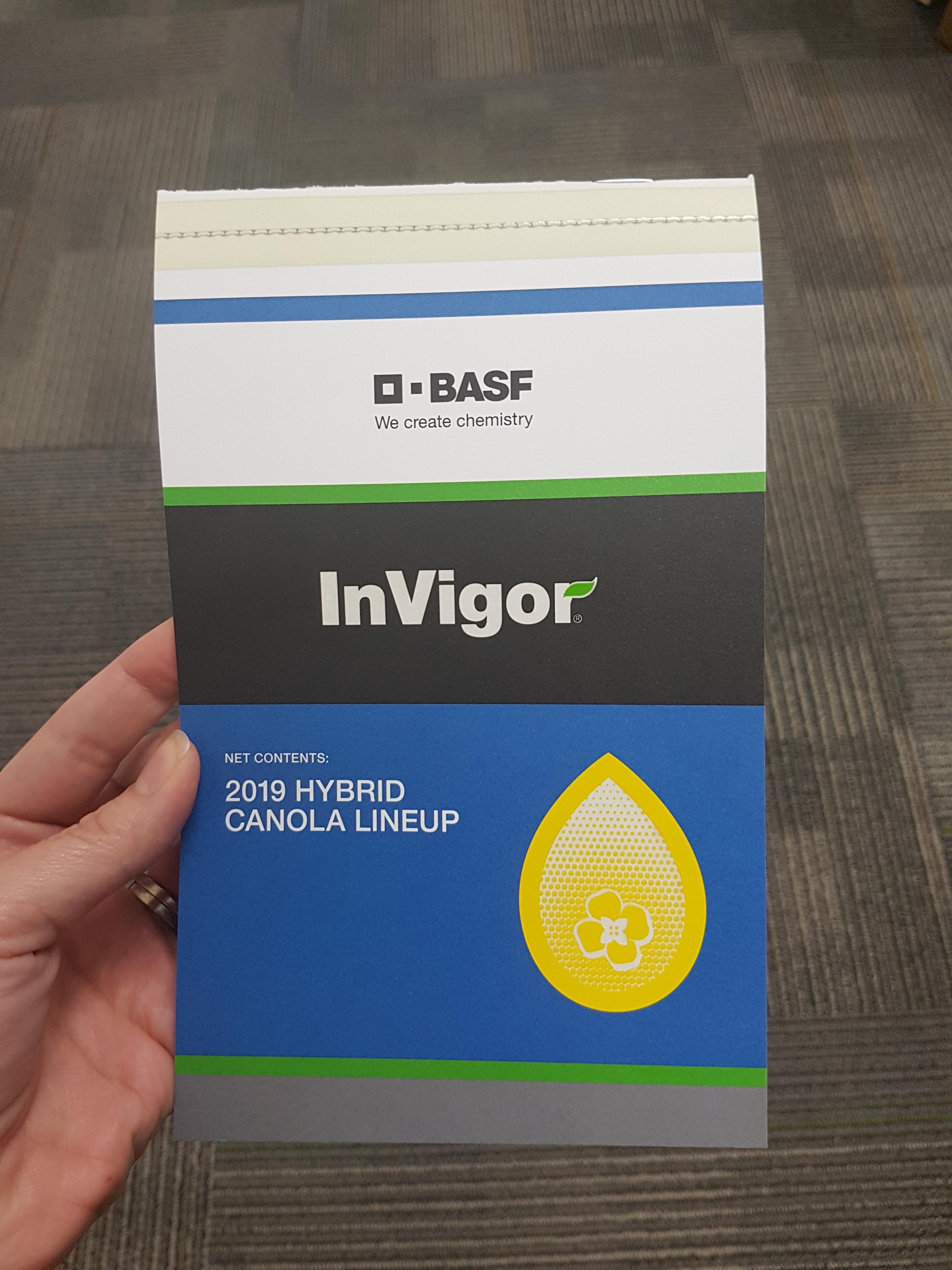 Inside there are summaries of their Demonstration Strip Trial (DST) trials from 2017, including comparisons of CS2000, the clubroot resistant hybrid from CANTERRA SEEDS.
It's not surprising that BASF sees CS2000 as the hybrid to beat. It's been a top product in the clubroot region of Alberta since its launch. The combination of yield, maturity and unique disease resistance simply cannot be beat.
But when we take a closer look at the yield data they included, we are concerned about the way CS2000 is being represented.
InVigor has included trials from 8 2017 DST sites. Here is a full list of the trials and the yields (bu/ac) at each location:
| | | |
| --- | --- | --- |
| | L241C | CS2000 |
| Athabasca | 66.4 | 65.1 |
| Bentley | 53.7 | 59.8 |
| Maskwacis | 67.4 | 66.2 |
| Namao | 75.5 | 77.5 |
| Pickardville | 64.1 | 53.7 |
| Provost | 49.5 | 46.3 |
| Trochu | 65.4 | 66.9 |
| Wetaskiwin | 58.1 | 52.8 |
You can see BASF has included a trial from Pickardville, AB. This trial was reported by the grower as having received significant hail; however, this is not noted by BASF in the information.
These same large-scale trials are included in the 2017 Canola Performance Trial (CPT) results. The CPT is managed by the Canola Council of Canada, and funded by the three Prairie grower groups. The CPT committee, after reviewing information about the extent of the hail at Pickardville, Alberta, made the decision to remove this trial from their results. View the full 2017 CPT here.
See below for the yield summary without the hailed site included.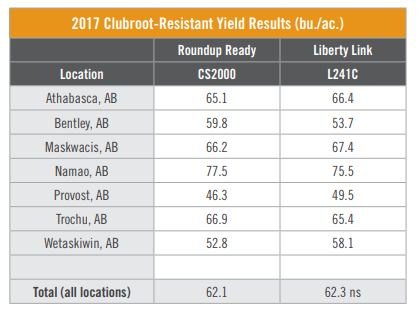 With the unreliable Pickardville result removed by the CPT committee, the overall performance of CS2000 in comparison to L241C changes. Removing the hail result puts CS2000 on par for yield with L241C.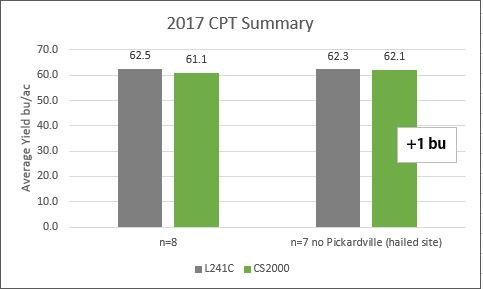 The yield of CS2000 and L241C are nearly identical in this trial summary. CANTERRA SEEDS encourages growers to look at other agronomic factors of the hybrids to make a deeper comparison. For example, both the clubroot and blackleg resistance of CS2000 is something that sets it apart.
CS2000 has a unique source of clubroot resistance, which gives it protection to additional pathotypes, including 5X, 5G, 3O and 5K, making it an excellent rotational option in the clubroot zone.
CS2000 also has 2 major genes of blackleg resistance – confirmed by the new blackleg labeling system: R-CE1 which can lead to even higher yields.
Finally, we encourage growers to look at more than one data set when comparing yield information on today's canola hybrids. Don't rely on one set of trials when making this important growing decision.
To learn more about CS2000, or to find a retailer near you click here.