Choosing the right canola seed varieties for your farm is a decision that intersects with many factors and is heavily influenced by local geography. As a farmer, I know that a lot of research and evaluation goes into making these decisions. This post will look at a few of the variables for choosing the right canola varieties for farmers in the Central Alberta growing region.
1. Canola Seed for Disease Resistance
Clubroot
In this area, the majority of growers are moving toward clubroot resistant (CR) canola varieties, regardless of whether clubroot has been detected in their county or not. Many farmers hold the opinion that clubroot has likely spread to many areas, even if it has not yet been detected there. The Kneehill county area where I farm had its first case of confirmed clubroot in 2018, and now that it is here, it is going to spread.
CS2600-CRT from CANTERRA SEEDS is an excellent variety with enhanced clubroot resistance. Check out the details on the product page to learn the pathotypes to which it is resistant and see if this variety's traits and attributes are a fit for you.
Another variety with enhanced clubroot resistance is CS2000, a Roundup Ready® canola variety. Not only does this mid-season variety offer clubroot resistance, it also has multi-genic blackleg resistance.
Blackleg
Blackleg is another big disease priority for farmers in the area now. Blackleg was a problem about 10 or 15 years ago, and while issues and focus shifted over time, in recent years the disease has come back to the forefront of the disease-management conversation for many farmers.
Another good variety with multi-genic blackleg resistance is our CS2100, which can also be straight cut this will be discussed more later on in this post. I have personally grown CS2100 and was pleased with the results.
2. Canola Maturity Timing
Many operators of large farms will choose several varieties with complementary maturity times, allowing for a more staggered seeding, a more flexible harvest and overall improved workflow. Where I farm near Three Hills, Alta. in the Kneehill County area, you can grow a wide range of varieties with different maturity times to get those benefits from increased flexibility.
Another variable for growers is whether you intend to straight cut or swath the canola. If you're going to swath it, you can get away with a variety that matures a little bit later, because you're speeding up the maturity when you knock it down.
To sum it up, for a large grower I think it is definitely a benefit to have the different maturities. It can cause more problems if everything is maturing at the same time. So, by having different maturities of canola, you're able to stagger your harvest a little bit.
3. Canola Seed for Mixed Farming Operations
Since I joined the CANTERRA SEEDS team last fall, I have enjoyed getting to work with different types of farmers that are encompassed in my territory. Size and location are just two of the factors that will influence a farmer's canola seed decision, another factor is what commodity that farmer is primarily producing.
The most central area in my territory has more mixed farming operations than the rest of my territory. For producers who are in the primary business of cattle production and produce grains as a secondary priority, it makes sense to manage input costs a little more tightly on the grain side to make your investment go as far as possible.
4. Canola Seed for Dry Geographies
In drier areas further east near the Saskatchewan border like Oyen, Consort, and Provost a farmer is likely not expecting to have huge, huge yields. In terms of fertility, some of those producers are jumping in the same boat as some cattle producers farther west. If you're in area that is prone to lack of moisture more years than not, it might make sense to consider a canola variety where the seed cost is a little cheaper to keep some cash in your pockets.
In either of these situations, CS2100 or CS2300 can be a particularly good value option to meet suit this purpose. These varieties don't have the clubroot gene, so that's where we would go on a farm to farm basis in the eastern region to evaluate if it is a good fit for that farm.
5. Canola Seed for Excess Moisture
Although Central Alberta has seen a few very dry years in recent memory, as we move farther west across the territory, growers in these more western regions never really seem to have a lack of moisture. The issue in this region usually is almost an abundance of moisture and being able to get the canola down in the spring because things are so wet. Then the same in the fall, getting things off because things are often wet.
When you're regularly dealing with an abundance of moisture, the wet conditions can create a perfect storm for disease pathogens, so that may steer you toward CS2600 CR-T or CS200 if clubroot is a concern in your county, or CS2100 if you are choosing not to plant a CR variety and want the multi-genic blackleg resistance.
6. Canola Seed and Weed Control
With CANTERRA SEEDS now offering TruFlexTM canola with Roundup Ready® Technology, in the form of CS2600 CR-T, that is a benefit to a lot of producers that want to be able to put on a little bit more Roundup so they will only need make one pass. Or, growers may still choose to do two passes at a higher rate to get those tough weeds. So, it creates a good option for farmers that do have some weed issues in their field or maybe Wild Oats issues and they want to try to clean that up.
The same can be said for some mixed farmers. Although a variety like CS2600 CR-T has a higher seed cost, if you're taking a field out of hay and putting canola there for rotation, a TruFlexTM variety will provide a great option to clean up those fields in that rotation.
Ready to Seed the Difference?
If you have any questions about selecting the best canola seed for your farm in the Central Alberta growing region, give me a call using the number below and I will be happy to talk with you about the different CANTERRA SEEDS varieties that may suite your needs and help you reach your goals.
Contact me:
Brenton Tullikopf
Territory Manager – Central Alberta
403-827-9758
---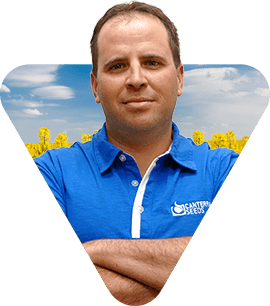 Brenton Tullikopf has worked in various positions in the ag industry for 20 years, and operates a grain farm near Three Hills, Alberta. Brenton joined the CANTERRA SEEDS team in the fall of 2019. As Territory Manager for Central Alberta, he works with CANTERRA SEEDS' retail partners to ensure they have the right resources and support to provide excellent varieties with strong disease packages and valuable traits and attributes to farmer customers.