The Canola Council of Canada recently released their updated clubroot maps, showing what we all already suspected… this is an issue across the Prairies. Check out the maps from the Canola Council to see how this disease is affecting your growing region.
CANTERRA SEEDS Canola – New Clubroot Resistance (including 3A and 3D!)
One of CANTERRA SEEDS' leading canola hybrids, CS2600 CR-T, has yet another claim to fame. This early-season, TruFlexTM canola with Roundup Ready® Technology variety can now tout that it has clubroot resistance not only to pathotypes 2F, 3H, 5I, 6M, 8N + 2B and 5X, but also 3A and 3D, which are critical pathotypes especially in the hot clubroot zones of Alberta. Other reasons to grow CS2600 CR-T? It also straight cuts, offers blackleg resistance and stands well, making it a great choice for your farm.
If you are looking to expand into the non-GMO canola market, CANTERRA SEEDS offers a Clearfield® hybrid with clubroot resistance as well. CS2700 CL has second-generation clubroot resistance with resistance to pathotypes 3A, 3D and 3H confirmed! CS2700 CL stands strong, has great yield potential, strong and unique blackleg resistance package, and offers attractive contact premiums.
What is Clubroot and Why Should You Care?
Clubroot first reared its ugly head in a commercial canola field near Edmonton, AB in 2003. It is a soil borne disease primarily affecting the roots of the plant. Once infected, cells divide and multiply abnormally causing galls on the roots. The clubroot spores take up space in the plant's cells preventing and restricting the movement of essential water and nutrients within the plant. This can result in wilting, reduced seed production, stunting and in severe cases, premature death of the plant.1
These symptoms ultimately result in yield loss and consequently less hard-earned money in your pocket. So, what can you do about it?
Clubroot Management
It is important to be proactive about prevention when it comes to clubroot. Once clubroot is in the field, it's essentially impossible to get rid of. Using an integrated pest management approach is your best bet to manage this disease – including the use of a clubroot-resistant hybrid, a long crop rotation, sanitation, active crop scouting and weed control.
A clubroot-resistant hybrid is a valuable tool in your toolbox when it comes to the fight against this disease. Many companies are now offering clubroot-resistant hybrids that contain a range of different resistance genes. Ultimately, the goal is to keep spore counts low as low spores counts equal less infection. Less infection? Less active spores going forward. Win-win!
Lengthening your crop rotation so that canola has a two-year break at minimum is a great way to manage this disease. A two-year break from a host plant will often allow the resting spores in the field to become inactive. Keep in mind that this rotation may need to be longer if you have severe disease pressure.
Check out the Canola Council website for more techniques and details on how to manage clubroot in your fields.
Where does CANTERRA SEEDS fit in?
How can CANTERRA SEEDS help you out with your clubroot management plan? We have four different canola hybrids in our portfolio that provide a variety of clubroot resistance genes; one in each of the major herbicide technology systems. Check it out!
| | | | |
| --- | --- | --- | --- |
| Variety | Herbicide Trait | Maturity | Clubroot Pathotype Resistance |
| CS4000 LL | LibertyLink® | Mid | 2F, 3H, 5I, 6M, 8N |
| CS2600 CR-T | TruFlexTM | Early | 2F, 3H, 5I, 6M, 8N + 2B, 5X, 3A, 3D |
| CS2000 | Roundup Ready® | Mid | 2F, 3H, 5I, 5G, 6M, 8N and Intermediate Resistance to 5X, 3O and 5K |
| CS2700 CL | Clearfield® | Mid-full | 2nd generation resistance + 3A, 3D and 3H |
Looking to lengthen your crop rotation to reduce impact of clubroot? CANTERRA SEEDS has one of the broadest seed portfolios in Western Canada – take a look at our pedigreed products.
---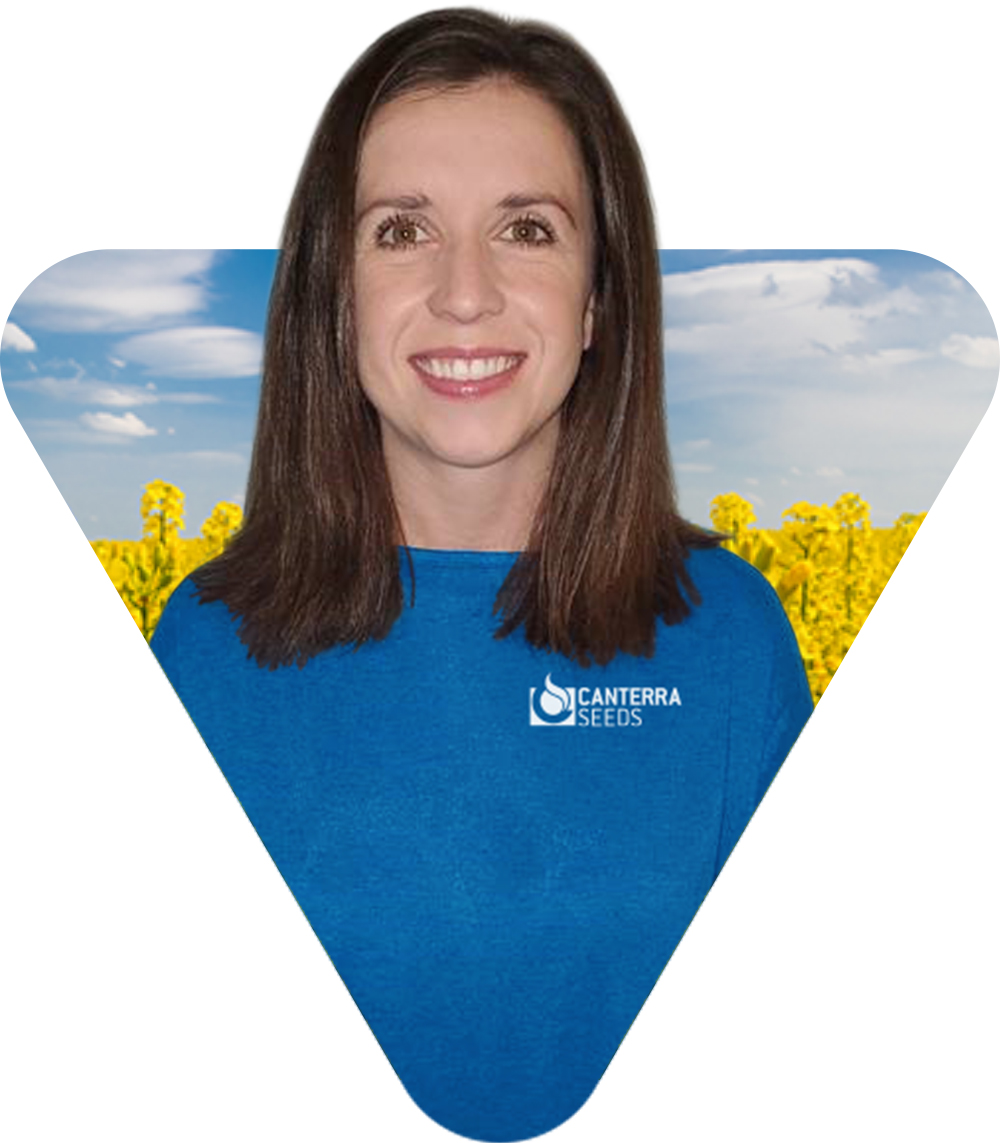 Courtney Welch joined CANTERRA SEEDS in November 2020, as Canola Product Manager. Prior to CANTERRA SEEDS, she spent several years as an Agronomic Research Specialist with Monsanto/Bayer, working with their soybean, canola and corn breeding programs. Courtney has a B.Sc. degree in Plant Biotechnology from the University of Manitoba.