I'm now approaching my thirteenth year with CANTERRA SEEDS and two years on the Board of 4-H Canada. Both experiences have been fulfilling personally and professionally, and when there is an opportunity for the two to intersect, well that is pure magic.
4-H Canada is an organization with strong ties to rural Canada and agriculture, which we believe highlights what Canadian youth have to offer the world. 4-H's innovative, youth-centred programs provide meaningful, positive experiences designed to build confidence, positive self-identity, self-esteem and a sense of achievement. Our company shares many of the core values of this storied organization.
One of the ways CANTERRA SEEDS supports 4-H is by participating in the annual Lenore 4-H Beef Club auction, with the proceeds going to 4-H programming. It brings me so much joy to support not only 4-H, but my grandchildren that participate in the auction. Not long ago, I had only one grandchild participate in the sale, but this year I had five from two families! So, you can imagine how tough of a position this was for grandpa, but they understand that we can't buy them all!
I've never experienced a heart so full as watching my granddaughter, Casey George, react to the news that we had won the bidding for her steer. The George's are known for the quality of their cattle, and I've watched her raise that steer to its auction weight of 1,454 lbs. It was also a bittersweet moment, as I could see the tears in her eyes as she had to say her final goodbye to the steer she had so lovingly raised.
Along with Casey's steer, we also won the bidding for a steer from Ty Nykoliation, extended family of Darren Nykoliation, Market Development Manager - Corn & Soybeans, here at CANTERRA SEEDS and son of Allan Nykoliation, Head Leader of Lenore 4-H Beef Club and owner of N7 Stock Farms. N7 Stock Farms is also a long-standing customer of PRIDE Seeds corn and Ty's steer weighed in at an auction weight of 1,482 lbs!
This intersection of work and family is such a special moment for me and all of us here at CANTERRA SEEDS. The passion and joy these kids get when they work with their animals is unbeatable. Seeing firsthand the sense of confidence and responsibility they get from participating in the Beef Club gives me great confidence that we have some great leaders in the making for this industry we all love.
Top to bottom, agriculture in Canada truly is a family business!
---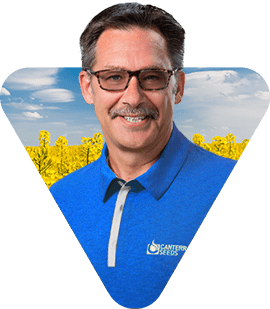 David Hansen is the President & CEO of CANTERRA SEEDS. He has spent 12 years with the company and has led the organization through a period of evolution and the establishment of national and international partnerships. Before he joined CANTERRA SEEDS, he spent five years managing a cotton seed business in China, giving him a multinational view of agriculture. Hansen launched the first generation of canola hybrids in Canada and established a canola seed business brand and sales network for Hyola 401. Hansen spent the first ten years of his career as a grain buyer and feed grains merchandiser. He uses his Western Canadian perspective and global agriculture experience to lead CANTERRAA SEEDS in its mission to produce, market and sell the very best in seed.