Every winter, I enjoy working with our retail partners and farmers in Northeast Saskatchewan to help them select the best canola seed for their operations. A lot of planning goes into choosing the right hybrid canola seed to meet your farm's specific goals and needs depending on your land type, disease concerns and more. When you're thinking about your seed decisions, here are some variables that will help influence your selection.
Your Canola Yield Goals
For just about every farmer, yield potential and profitability is the most significant factor in a canola seed decision. Probably the first question many of you ask when thinking about a new canola variety is, "What's it going to yield?"
My territory, which runs from near Saskatoon in the Northeast corner, to Regina in the south, is split between black and brown soil zones. Farms north of Highway 16 are generally seeding into black soil and those south of Highway 16 are in the brown soil zone. We can grow just about anything in these two soil types, but the black soil zone does generally see about a 5 to 7 bu/ac yield bump in canola crops. If you're in the black soil zone, you're dealing with about 5 to 8.5% organic matter, compared to 3.5 to 5 in the dark brown soil zone which can help produce a few extra bushels an acre.
My goal, and CANTERRA SEEDS' goal, is always to help farmers maximize their yield and profitability. If you really want to see those high yield results after harvest, CS2300 is an excellent canola seed choice for raw yield power. It is a large plant with lots of pods, and it has a strong stem with extremely impressive standability. It is a very similar hybrid to an old favourite, CANTERRA 1990 canola, which is now retired. So, if you liked 1990, you'll love CS2300, his younger brother with a superior disease package.
Choosing Canola Seed for Disease Resistance
Blackleg
Blackleg may not be the first canola disease that comes to mind for farmers in this area, but it is something I recommend you should keep in mind. If you want to brush up on scouting for blackleg, take a look at this video in our Virtual Crop Tour from the Canola Council of Canada's blackleg specialist.
Clubroot
Overall, clubroot is spreading across Western Canada, and my territory is no exception. Clubroot is beginning to show up in areas across Northeast Saskatchewan – primarily north of Highway 16. However, experts believe this disease will continue to spread now that it has been established, just like it has done other provinces. In the future we can expect to see clubroot popping up in new areas, so whether you are currently dealing with clubroot or just want to be prepared, it is a good time to explore your options for clubroot resistance.
Our canola varieties offer excellent disease resistance. CS2000, CS2600 CR-T and our new hybrids CS2700 CL and CS4000 LL have genetics to resist both clubroot and blackleg.
Refer to the 2020 Saskatchewan Clubroot Distribution Map, released by the Government of Saskatchewan and SaskCanola in January 2021, to see if clubroot has been identified in your area.
Canola Maturity
North of Highway 16, the growing season is a little bit shorter than it is in the southern part of the territory. Full-season canola varieties can be grown as far north as Tisdale without having to worry about maturity concerns. An earlier-to-mid variety can be a good selection if you want to make sure you are able to harvest before frost events are generally starting to occur.
Many farmers in this area who have some flexibility on maturity choose varieties that will let them stagger maturity timing to make harvest easier and more efficient. Quite frankly, I recognize that many farmers will be seeding our varieties in combination with competitor varieties to achieve this. Whatever your crop plan and rotation, we believe our varieties can be very complementary to any plan.
Herbicide System
CANTERRA SEEDS is now one of the only seed companies in Canada to offer canola hybrids on all four major trait platforms. CS4000 LL, which is brand new to us as of this winter, is proving itself to be an easy straight-cut variety – makes good sense whether you are a 20,000 acre farmer or a 2,000 acre farmer.
Read more about how CS4000 LL performed in its first season of trials.
Want to talk more about choosing the best canola seed for you in Northeast Saskatchewan? Give me a call today.
Ready to buy? Find your preferred retailer and order online through Agro.Club Canada.
---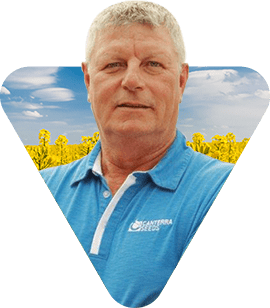 Bret Gaetz is the Territory Manager for Northeast Saskatchewan with CANTEERRA SEEDS. He works closely with our partners in our independent retail network to ensure they are well supported to provide farmers with high-performing varieties for their farms. Gaetz began his career in agriculture with the Saskatchewan Wheat Pool and Viterra where he experienced a variety of roles from custom spraying to wheat procurement. After this, Gaetz spent over a decade in management for an independent retail and pedigreed seed production operation before joining CANTERRA SEEDS.