On March 18, 2021, we held an invite-only online celebration for CANTERRA SEEDS' 25th anniversary in the seed business. Original directors, shareholders, staff, and other partners in the business gathered to chat, reminisce and hear from CANTERRA SEEDS speakers.
The feeling in the "room" that day was one of pride and appreciation for the last 25 years, and ambition for making the next 25 years even more successful for CANTERRA SEEDS.
25 Years of Building Strong Partnerships
CANTERRA SEEDS would not be where it is today without the partnerships we've formed over the years, and the shareholders that believed in the company from the start.
There were a lot of people to thank on March 18th, and if we had the chance, we would have mentioned every single person by name. Fortunately for the event attendees, we knew that catching up with old friends and sharing stories over a Connect the Plots beer was of utmost importance!
Hear what our speakers had to say, including what CANTERRA SEEDS' President & CEO, David Hansen, had to share about where the company has gone in the last few years and the bright future we have ahead.
To make the 62-minute video a little easier to digest, feel free to follow the outline below:
0:00 - 18:42 - Brent Derkatch - Welcome, Beginnings of CANTERRA SEEDS
18:42 - 28:16 - Message from our Forefathers (separate video also below)
31:28 - 41:20 - David Hansen - The Past 25 (Thanks to our Original 9, Seed Growers & Partners)
41:21 - 49:49 - David Hansen - The Next 25 (Important partnerships we have that will pave the way)
51:20 - 55:15 - Lorri Keywoski - Rooted in the Prairies Project announcement
A Company to be Proud of
As part of the celebration, we tracked down all nine original directors (and one of the first CEO's) to interview them about their thoughts on the milestone. Click on the video below to see what they had to share – beware, you may need a tissue or two!
$25,000 to Celebrate 25 Years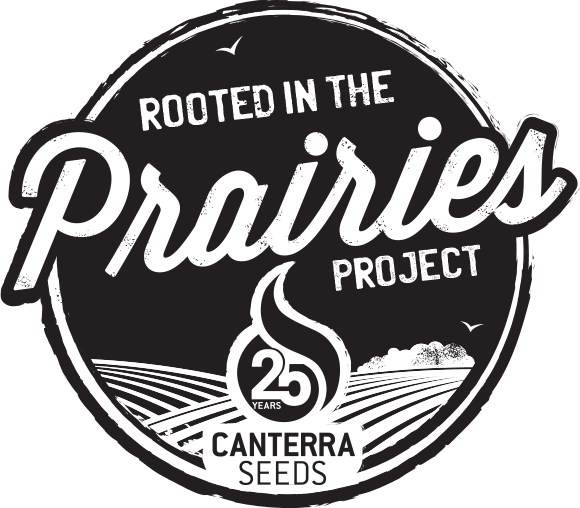 If you haven't heard yet, we launched the Rooted in the Prairies Project at this invite-only event. CANTERRA SEEDS will be giving away a total of $25,000 to Western Canadian charities and non-profits this year. Ten $2,500 donations are up for grabs - CANTERRA SEEDS shareholders and persons active in farming in Western Canada can nominate a cause close to their heart at canterra.com/rooted-project.
From all of us at CANTERRA SEEDS, thank you for the support and dedication everyone has shown our company in the last 25 years, and we look forward to building greater relationships with all of you over the next 25 years.